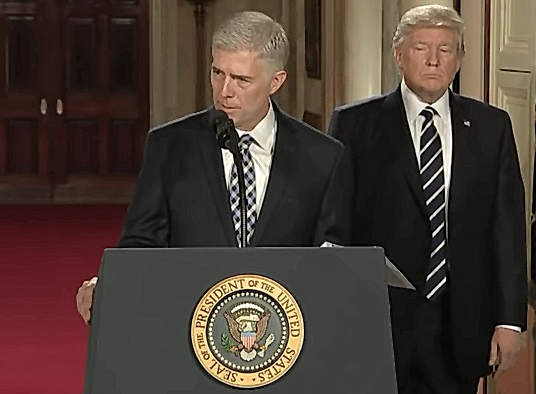 By Natalia Castro
Justice Neil Gorsuch has a chance to change the face of the Supreme Court as the perfect replacement to the late Justice Antonin Scalia. That is, if he lives up to President Donald Trump's vow to reaffirm constitutional principles to our judicial system. But Gorsuch is just the beginning, currently there are more than 120 vacancies in federal district and appeals courts around the country, and Trump's conservative appointments could change the next generation of our court system.
Trump announced early this week his third wave of federal judge nominations, a round of eight notably conservative legal professionals as well as two intended nominations, according to a White House press release.
One of these nominees, Amy Coney Barrett, was even a former law clerk under Scalia and, if confirmed, will serve as a Circuit Judge on the U.S. Court of Appeals for the Seventh Circuit. With Senate rules now preventing a filibuster on judicial nominees, Barrett and Trump's other nominees should be confirmed with little pushback.
While Trump has this majority in the Senate, he must begin pushing appointments forward. As is, Trump will need to push at least two appointments a month to fill the court vacancies in a single four year term.
Liberals have reason to be worried, Trump still has over 100 vacancies to fill and that does not include judges who could be ending their careers in the next four years.
With 148 current judges on federal benches turning 67 or older this year, the likelihood of retirement or death increases as time goes on. Trump could not only shift the balance of the Supreme Court as he did in April, but the entire federal court system.
At the moment, about 55 percent of judges in the federal system were appointed by Democrats. But by filling 120 or so currently vacant positions, Trump would flip the courts, with Republican nominated judges filling more than 50 percent of the federal court positions. If given two terms in office, he could go even further.
The far left advocacy group Think Progress writes nervously, "[Trump's] influence will have the greatest effect at the Circuit Court level. While the Supreme Court only hears about 75 cases a year, the court of appeals decides tens of thousands. Which means that often, the lower courts have the final say on the rule of law, creating a far-reaching sphere of influence over the daily lives of Americans."
Issues such as Trump's travel ban and sanctuary cities, which are currently being held up in district and appeals courts, could eventually be placed in the hands of conservative justices as Trump continues the nomination process.
California federal judge William Orrick is the exact reason Trump needs to make haste with these nominations, as it has become clear they will determine if his policies live or fail.
Judge Orrick ruled against Trump's sanctuary city executive order, not based on the legislation itself but instead, a series of public statements by Trump, White House Press Secretary Sean Spicer, and Attorney General Jeff Sessions, claiming these political statements were evidence the federal government intended to abuse the order.
Ignoring decades of precedent, liberal judges are striking blows at policy they disagree with and as federal judges, effectively legislating from the bench.
Trump's judicial nomination could be a game changer for him. In the 9th Circuit alone, which encompasses much of California, Arizona and other critical border states, there are currently 20 court vacancies. If Trump can nominate conservatives to the court that has consistently challenged his policies, he can tilt the bias away from Democrats once more.
While liberals squeal at this possibility, it is truly no more than what they have done throughout history as well. Our courts liberal bias today can be accredited to the nearly 250 federal judges appointed under the Carter Administration, now it is simply Trumps turn to change the tide.
With only a simple majority needed to confirm judges, it is likely Trump's nominees will pass with flying colors—for now. Republicans currently enjoy a majority in the Senate, but new elections occur every two years. Now, Trump's focus should be on getting them nominated. Over the next four years Trump can instill a generation of conservative court leaders, allowing him to implement the policy he was elected to execute.
Natalia Castro is a contributing editor at Americans for Limited Government.