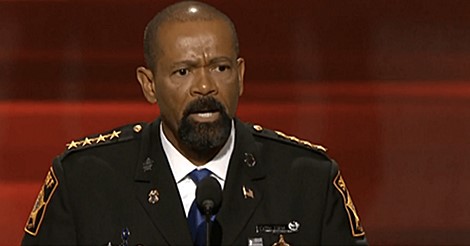 By Natalia Castro
Former President Barack Obama enacted a war on local police officers across the country, now President Donald Trump is putting an end to this practice.
One imminent, key appointment by Trump is Milwaukee County Sheriff David Clarke with a position at the Department of Homeland Security (DHS). Clarke was a vocal advocate for Trump throughout the campaign trail, and now stands as a qualified individual to assist local municipalities across the country fight against a range of threats.
Last month, Clarke proudly announced that he has accepted a job as Assistant Secretary of Intergovernmental Affairs at the DHS's Office of Partnership and Engagement. This position plays a vital role in communicating with governors, mayors, and state homeland security advisors during national security crisis's and threats; a position fitting for someone who has worked in law enforcement for years and been vocal about the need for greater national security.
Following the San Bernardino terrorist attack Clarke spoke critically of our national intelligence gathering and the left's denial of Islamist terrorism, arguing that "That is not the way to go about conducting intelligence operations and that's why these guys, these two individuals here, this husband and wife did not even appear on their radar screen… Anybody that thinks this is a gun control issue is disconnected from that same reality. It's fantasy to think it's anything other than this [Islamist terror attack]."
Now, by working to connect federal intelligence with local and state municipalities, Clarke will be able to solve the problems he has observed for years.
The DHS Office's description notes, "[The Assistant Secretary] represents the interests and perspective of state, local, tribal and territorial officials in the Department's policy development process. He participates in the DHS response to actual or potential national security threats/incidents and a variety of natural disasters. He ensures the timely distribution and coordination of information to governors and mayors to keep them informed during an incident."
There is no one better to communicate the needs of every day police officers than an everyday police officer, rather than an unelected bureaucrat who may have never been in the field.
And that has already been proven true by the DHS's pattern of corruption under the Obama Administration.
In 2009, the DHS issued a memo on supposed right wing extremism, to which they defined as "groups, movements, and adherents that are mainly antigovernment, rejecting federal authority in favor of state or local authority" and "groups and individuals that are dedicated to a single issue, such as opposition to abortion or immigration."
Essentially, a vague definition that gave them permission to target millions of Americans based only on their political beliefs; this same memo suggested veterans returning from Iraq and Afghanistan might be at risk for recruitment by terrorist, making our nations veterans subject to DHS targeting as well.
When Americans for Limited Government (ALG) filed a Freedom of Information Act (FOIA) request into the memo, it revealed that several sources which had been used to develop the intelligence assessment were outlandish websites or the left-wing, anti-police Southern Poverty Law Center. Not a single government produced study or source was used.
Former Americans for Limited Government President Bill Wilson commented at the time, "The memo did not illuminate on any actual planned attacks or any groups known to be planning attacks, or any groups with histories of perpetrating attacks that are currently conducting any types of operational recruitment, meeting, or planning attacks…The background DHS used was not based on credible intelligence sources, reporting, and analysis. Instead, what we found is that the Department was apparently surfing the net to see what news stories happened to turn up to support a pre-determined conclusion."
While the politicization of this agency is clear, the implications for national security are far greater — as the DHS was targeting conservatives and veterans, who they failed to target put countless Americans at risk.
Philip Haney explained in the Hill in late 2015 that while working for the DHS for 13 years he worked on investigating individuals affiliated with large, but less well know terror groups. He explains that he "created records of individuals, mosques, Islamic Centers and schools across the United States that were involved in this radicalization effort. The Dar Al Uloom Al Islamiyah Mosque in San Bernardino was affiliated with this network and we had identified a member of it in our investigation."
But all this suddenly ended after more than six months of research and tracking with over 1,200 law enforcement actions and more than 300 terrorists identified. Why? Because the DHS's Civil Rights and Civil Liberties Division felt that these individuals were being unfairly targeted without affiliation with a "Specially Designated Terrorist Organization".
As Haney explained, "My law enforcement colleagues and I must conduct our work while respecting the rights of those we monitor.  But what I witnessed suggests the Obama administration is more concerned with the rights of non-citizens in known Islamist groups than with the safety and security of the American people."
Had we employed the advice of on the ground workers such as Sheriff Clarke and Philip Haney, the 14 people who died at the hands of terror in San Bernardino could perhaps still be alive.
Luckily, President Trump has prioritized protecting the American people and is going to give police the back-up they need.
His appointment of Sheriff Clarke sends a clear message that bureaucrats cannot impose policy on police that does not allow them to do their jobs, the DHS should be maintaining national security and Clarke is poised to ensure that mission is enacted.
Yet House Homeland Security Committee Democrats are already pushing back. In a letter to DHS Secretary John Kelly, Democrats cite Clarkes "troubling record" as evidence that the Secretary Kelly must immediately disqualify Clarke from consideration.
What is his troubling record? Democrats have claimed that Clarke plagiarized his master's thesis and is responsible for the death of four inmates at the Milwaukee County Jail.
However, in Clarke's nearly 100 page thesis on Homeland Security privacy policy, he continuously cites every source he uses. Democrats claim not that he neglected to identify his sources, but that he identified them in the wrong format — claiming Clarke should have used quotation marks in several places instead of paraphrasing in his footnotes.
While this might be a reason for scolding a college student, it is far from a reason to dismiss an individual from a position they are overly qualified for.
As far as the Milwaukee County Jail claim, there is potential evidence of crime, but Clarke is far from the culprit. In fact, an investigation has already provided probable cause for several jail officials and two supervisors to be charged with neglect — Sheriff Clarke has not been deemed responsible in any way.
The DHS has not been fighting for the American people, with the fear President Obama placed in police around the country, the DHS decided to spend time investigating conservatives rather than investigating known affiliates with terrorist organizations.
Clarke is qualified for the position and ready to improve the DHS refocus its mission on fighting true threats to the homeland, that is, if Democrats will allow him to do his job.
This has been Clarkes message since he initially joined President Trump on the campaign trail. Now, he will be able to work with states and cities to protect the American people and lead police across the country to make America safe again.
Natalia Castro is a contributing editor at Americans for Limited Government.