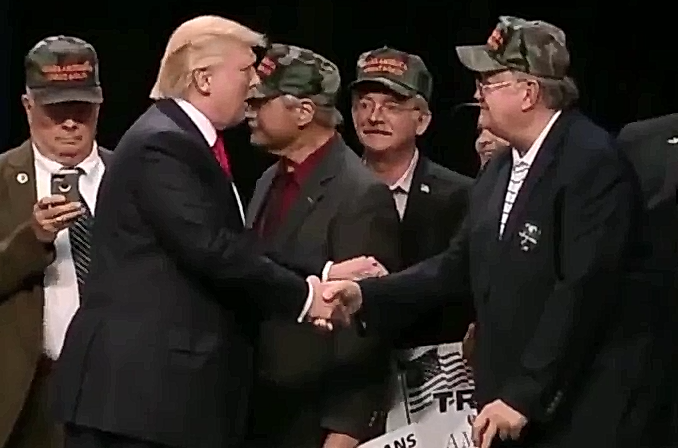 By Natalia Castro
Bipartisan hasn't been a common word floating through the House of Representatives these days. Shockingly throughout the mainstream media's coverage of modern politics from Russian collusion to the healthcare crisis, most outlets forgot to cover key, bipartisan legislation the House passed to protect veterans and end the corruption that has plagued the Department of Veteran Affairs (VA).
Not just one, but three critical pieces of legislation moved through the House with nearly no opposition to provide greater opportunities to veterans and their families. Rep. Neal Dunn (R-Fl.) introduced the Ensuring Veteran Enterprise Participation in Strategic Sourcing Act which passed on an overwhelming voice vote. This Act gives priority of government contracts to small businesses owned by veterans.
This targets a critical area of VA abuse and protects our veterans. Sunshine State News reported this month that while veteran owned small business have always been meant to hold preference; in reality, a loophole exists in which the VA can use the General Services Administration to connect them with large scale suppliers of goods, these often are not veteran owned business.
By removing this loophole and requiring the VA Secretary to review GSA contracts for veteran owned businesses, Dunn's legislation brings accountability to the agency and opportunity to veterans.
In subsequent action, the House also moved to pass the Military Residency Choice Act by voice vote; this legislation by Rep. Elisa Stefanik (R-N.Y.), eases relocation for military families by giving spouses the option of establishing the same state of residency as their service member for tax and voting purposes.
Stefanik explained, "Military spouses serve too, and this piece of legislation eliminates the daunting task of documenting multiple tax jurisdictions, which at times causes some spouses to forego the complication of working all together."
In this legislative sweep on the Hill, the VA Bonus and Transparency Act was also passed to address one of the most pressing problems within the VA- the corrupt bonus system.
Scandal broke in 2015 when it became clear the VA was providing at least $142 million in bonuses to executives despite clear evidence of abuse.
USA Today reporters Donovan Slack and Bill Theobald found in 2015 that, "Managers in Tomah, Wis., got $1,000 to $4,000, even though they oversaw the over-prescription of opiates to veterans – one of whom died. The VA also rewarded executives who managed construction of a facility in Denver, a disastrous project years overdue and more than $1 billion over budget. They took home $4,000 to $8,000 each. And in St. Cloud, Minn., where an internal investigation report last year outlined mismanagement that led to mass resignations of health care providers, the chief of staff cited by investigators received a performance bonus of almost $4,000."
The legislation introduced by Rep. Claudia Tenney (R-N.Y.) requires the VA to submit an annual report to Congress at the end of each fiscal year listing the bonuses awarded to all senior staff. The bill passed once again on a seemingly unanimous voice vote.
Finally, Harry W. Colmery Veterans Educational Assistance Act expands benefits for veterans eligible for G.I. Bill education assistance. The bill removes the current restriction that veterans must use or lose their benefits within a 15-year timeframe, future recipients and veterans discharged after January 2013 would be able to use the benefits to return to school at any point in their lives. This measure passed on a 405-0 vote.
These legislative advancements come just weeks after President Trump signed into law Senator Marco Rubio's VA Accountability and Whistleblower Protection Act, which makes firing ineffective VA employees easier.
Despite news headlines criticizing our gridlocked and inefficient Congress, both sides have seen ease coming together to protect our veterans and end the abuse within the VA. The only measure which failed, was the Veteran Choice Program, a bill introduced to provide more healthcare choice for veterans outside of the VA system, which Democrats feared would lead to privatization of the VA.
While Republicans and Democrats will have to continue working together to complete the necessary changes within the VA and create private sector options for veterans; House measures this week should be celebrated as a chance to provide veterans and their families with jobs, education, adequate health services, and ultimately greater support. The media might never cover it, but the American people deserve to know that Congress is working to support those who support us with their sacrifice.
Natalia Castro is a contributing editor at Americans for Limited Government