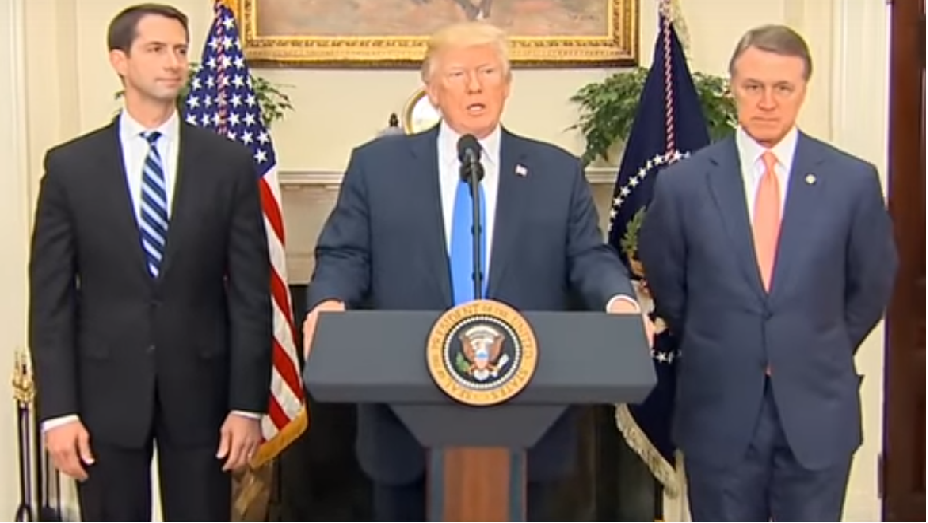 By Printus LeBlanc
On Monday, there was yet another terrorist attack in New York City. Luckily the incompetence of the extremist led to only five injuries, with many speculating it could have been much worse. This attack comes on the heels of another attack on Halloween day that left eight dead and 11 injured. Both attackers were brought to the country legally, thanks to an outdated immigration system. Congress knows what the problem is, why have they not fixed it?
The Department of Homeland Security has confirmed Akayed Ullah, the zealot from Monday's attack, came to the U.S. in 2011 via an F43 "fourth preference" family immigration visa, also known as chain migration. F43 means he was in the most distant family-relationship eligibility category, i.e., the brother or sister of an adult citizen. It gets worse, the sibling that allowed Ullah to immigrate entered the U.S. via the Visa Lottery program. The Visa Lottery program is the same program that brought Sayfullo Habibullaevich Saipov to the U.S. In case you don't remember; he is the terrorist from the Halloween day attack.
Why has Congress failed to act on chain migration and the Visa Lottery?
The latest immigration numbers show more than 60 percent of new legal arrivals to the U.S. since 1981 came here via chain migration. These are people who came here because they knew someone, not because they were a doctor, engineer, or scientist, but because they were related to someone else. At a time when Silicon Valley is screaming for higher skilled workers, does it make sense to prioritize loose family connections instead of labor market needs?
Amnesty advocates and the mainstream media will tell you there is no problem with chain migration or the Visa Lottery. It could be because they are too busy reporting on the diet coke habit of the President to notice, but if they opened their eyes, they would see a problem:
Another falsehood spread by amnesty radicals is the economic argument. Activists will often argue that immigration legal and illegal is a net positive for the economy. When you look at the data, the case doesn't hold up.
Illegal immigration alone is costing the U.S. taxpayer $135 billion a year in medical care, education, and law enforcement costs. A 2012 study found that 51 percent of households headed by an immigrant used welfare. The federal government spent almost $500 billion on welfare programs in the same year the study was done. How much of that went to immigrant households?
Despite the glaring need to end chain migration and the Visa Lottery program, Congress has yet to act. The Democrat Party is happy with the status quo because they get to import people that need government assistance, and people that need government assistance are more likely to vote Democrat. Republican leadership is in love with the 2012 election autopsy report, even though Trump proved everything in the report wrong with his election.
However, thanks to the election of President Trump the idea of a common-sense immigration policy that puts the needs of Americans first is on the horizon. While the pro-amnesty crowd want the Deferred Action for Childhood Arrivals (DACA) program to be made into law, President Trump is standing firm. Any deal that includes DACA must include the elimination of chain migration, the Visa Lottery, and a border wall.
In an interview with Laura Ingraham, Majority Leader Mitch McConnell (R-Ky.) seemed to be coming around to the idea also stating, "I agree with Cotton and Perdue…Chain Migration, doing something about the Diversity Visa Lottery, there are plenty of changes to the legal immigration system that should be added to any kind of a DACA fix that we do."
McConnell was referring to the RAISE Act. Legislation introduced earlier this year by Sens. Tom Cotton (R-Ark.) and David Perdue (R-Ga.) that would slash chain migration, eliminate the Visa Lottery program, and return the U.S. to a merit-based immigration system.
Americans for Limited Government President Rick Manning has long been a proponent of overhauling the failing immigration system stating, "Yesterday's horrific attempt at mass murder by a person who came from Bangladesh via chain migration underscores the importance of ending both the visa lottery system and chain migration. It is absurd that when one member of a family wins the lottery to be able to legally come to the U.S. that every extended relative is put to the front of the line for future immigration. It is in both U.S. national security and economic interests to have an immigration system that prioritizes those with needed skills and experience. Any discussion of immigration law changes must begin with ending chain migration, building the wall and securing the border before any other considerations."
Chain Migration and the Visa Lottery program, two pieces of a broken immigration system coming together to put American lives in danger. U.S. immigration policy must be based on what is best for the U.S., not what is best for the incoming immigrant. Local, state, and federal resources are stretched too thin as it is. It makes no sense economically to import people that cannot support themselves and are going to depend on a system on the verge of collapse. President Trump won the election with a message of putting Americans first, it is time for Congress to live up to their end of the deal.
Printus LeBlanc is a contributing editor for Americans for Limited Government.