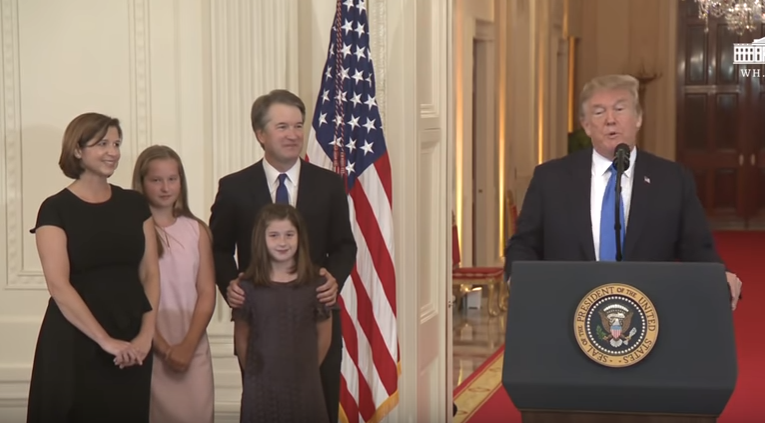 By Natalia Castro
The Republican-controlled Senate has a strong opportunity to remind voters why they gave the GOP a majority in the 2016 election. The Senate's top priority in the next few weeks will be confirming President Donald Trump's second nomination for the Supreme Court, Brett Kavanaugh. Kavanaugh is a qualified jurist who has undergone a transparent and thorough vetting process, further delays in his confirmation are nothing more than continued obstruction by Democrats in the Senate.
Senate Judiciary Committee Chairman Chuck Grassley (R-Iowa) scheduled Judge Kavanaugh's hearing for September 4th and expects the process to take 3 to 4 days. But Democrats in the Senate already have plans to delay the confirmation.
Already, Kavanaugh's confirmation has taken an unusually long time. September 4th will mark 57 days since President Trump announced Kavanaugh as his pick to replace Supreme Court Justice Anthony Kennedy, who has decided to retire.
Committee considerations for Supreme Court Justice's Sonia Sotomayor, Elena Kagan, and Neil Gorsuch all took between 47-48 days.
Now, Democrats have decided to further delay the process by threatening a lawsuit against the National Archives for what he claims are Judge Kavanaugh's full records. Senate Minority Leader Chuck Schumer (D-N.Y.) filed a Freedom of Information Act request for additional records on Kavanaugh, and is suing to receive them before the September 4 deadline.
This is despite the fact that Grassley's team has compiled "over 4,800 pages of judicial opinions Judge Kavanaugh wrote, over 6,400 pages of opinions he joined, more than 125,000 pages of records produced from his White House legal service, and over 17,000 pages in response to the most comprehensive questionnaire ever submitted to a nominee," according to Grassley.
As of now, the Judiciary Committee has gathered more than 184,000 documents regarding Kavanaugh's work.
This is more than the approximately 70,000 compiled on Chief Justice John Roberts, the 173,000 compiled on Justice Elena Kagan, and the 182,000 compiled on Justice Neil Gorsuch.
Democrats have no reason to delay this process; they are stalling the confirmation of an extremely qualified Jurist.
Kavanaugh has served on the D.C. Court of Appeals for ten years and was described by SCOTUS Blog editor Edith Roberts as having "impeccable academic credentials and sterling reputation in conservative political and legal circles."
Kavanaugh attended Georgetown Prep, Yale, and Yale Law School before serving as a clerk for Justice Kennedy.
Judge Kavanaugh is the most qualified candidate to replace Justice Kennedy. Chairman Grassley should be commended for pushing through with Kavanaugh's hearing despite the fits from the left. Following the hearing, the Senate should move swiftly to confirm Judge Kavanaugh.
Natalia Castro is the Public Outreach Coordinator for Americans for Limited Government.