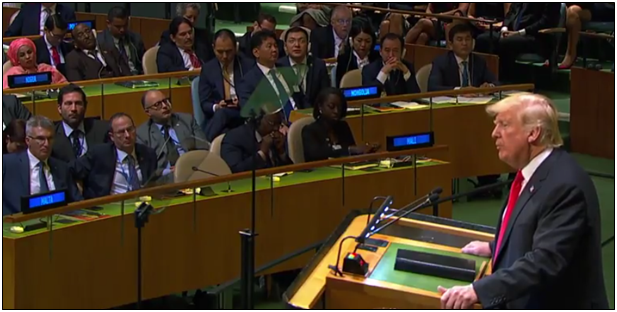 By Natalia Castro
During President Trump's address to the United Nations (UN) on Tuesday, he referred to Iran as a "corrupt, dictatorship" with leaders who fuel "chaos, death, and destruction". For decades, this has been abundantly clear. Yet, our previous president chose to soften our relationship with the regime, exposing the U.S. to additional threats. President Trump has worked hard to end this deal and promote U.S. security; but as Trump works hard to put the world's safety first, members of the European Union (EU) are doing the opposite.
Yet now, five EU nations are working together with Iran to circumvent US sanctions on the country and fuel their economic growth.
Federica Mogherini, the EU foreign policy chief, said Monday night, "In practical terms this will mean that EU member states will set up a legal entity to facilitate legitimate financial transactions with Iran and this will allow European companies to continue to trade with Iran in accordance with European Union law and could be open to other partners in the world."
The question the world should be asking is: If Iran has a proven record of funding terror regimes, breaching international agreements, and using government resources to oppress their people, why is the EU so eager to do business with them? In fact, so eager that they will skirt US sanctions in order to do so.
Iran is ruled by a hostile and unpredictable dictatorship. Internally, the UN's own 2017 Human Rights Report, concluded that the country has "a high number of executions for crimes not meeting the international legal standard of 'most serious crimes' and without fair trials of individuals, including juvenile offenders; disappearances by government agents; torture; harsh and life-threatening prison conditions; arbitrary detention and imprisonment; hundreds of political prisoners; unlawful interference with privacy; severe restrictions on freedom of expression, including criminalization  of libel and suppression  of virtually all expression deemed critical of the regime or its officials; severe restrictions on the press, including imprisonment of reporters, and of the internet which the government disrupted and censored , as well as on academic and cultural freedom…"
The 2017 U.S. Department of State Country Report on Iran also found Iran to be a continued state sponsor of terrorism, responsible for funding terror regimes across the world in 2016. The report also notes that the Iranian government maintains a robust cyberterrorism program and has sponsored cyberattacks against foreign governments and private sector entities in recent years.
Despite all this clear evidence that Iran is not a friend to the U.S. or our western allies, former President Barack Obama moved forward with the Iran Nuclear Deal.
Under this deal, critics said Iran had a clear path to nuclear weaponry without adequate safeguards for the international community. The deal revolved around trust and transparency with a regime known for promoting the opposite.
It is no surprise within two years, Iran had already exceeded its limits on uranium enrichment and the production of heavy water several times. A series of German intelligence reports also discovered "Iranian efforts to procure technology that 'can be used to develop plutonium for nuclear weapons.' One report concluded there was 'no evidence' of the 'complete about-face in Iran's atomic policies' that had been hoped for", according to Elliot Kaufman of the National Review.
Luckily, since he came into office President Trump has worked hard on reversing the problematic Iran nuclear deal to further put pressure on Iran to move toward denuclearization. In May, President Trump officially withdrew the U.S. and re-imposed sanctions on the country. But while President Trump works to keep the international community safe and prepared against a volatile regime, he is going to need to keep two eyes on the EU — which is doing the opposite and putting the world at risk.
Natalia Castro is the multimedia manager at Americans for Limited Government.