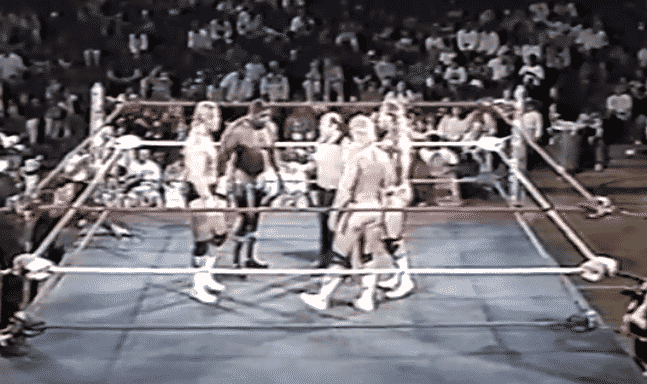 \
"Wrestling is one of many examples of how the free markets work."
By Frank McCaffrey
I am fortunate in many ways because I learned about the power of the free markets as a teenager.
I worked for a local television show called "Inside the Squared Circle." It was the nineties and the show focused on the hot topic in those days, pro- wrestling. We talked about the industry news and had occasional matches on the show. The senior people on the show said they saw talent in me. They liked my writing, producing and noted I had the right on-camera presence. But I was young and really just doing it for fun. I figured it would go away as I got older.
I was wrong.
Last year, I started getting messages from old friends and viewers. Vice TV was airing a series of documentaries largely focused on all the crazy stuff that was going on in the wrestling business when I was doing the show. People were drawn to it. The stories of sex, drugs, alcohol, violence and backstage back-stabbing were fascinating to them.
While I deal with some embarrassment about my past on the show, there is a lot I can be very proud of. In fact, the show became a cult favorite in the Washington D.C. metro area. Everywhere I went, people recognized me and asked for my autograph.
We broadcast clips of wrestling from around the world, including something that was known as "Shoot Fighting." It was big in Japan and captured the eye of American promoters. They eventually brought it to the United States where it morphed into what is now known as Mixed Martial Arts or UFC.
The show also broadcast rising stars as they were struggling to make it in the difficult business. Many of them benefitted from the exposure because they became top names who made a lot of money. There was even one guy who was getting his start with us named "Flex" Kavana. He had a good look, athletic ability and seemed to have a brain. But he was as green as grass and stiff as a board. Well, I can report to you that "Flex" got better and did alright for himself. I can proudly boast that he is now probably the top name in film and social media. You may have heard of him, Dwayne "The Rock" Johnson.
The show opened doors for me, as well. I generated enough attention that TV executives began to take note. In the early 2000s, I ended up getting called up to the national level with a then-young network, The Fox News Channel.
But as you can imagine, over the years I was on "Inside the Squared Circle" I was the butt of many jokes. Teachers, peers and my peers' parents would roll their eyes when they talked about what I was up to. It was hard to take. The things they whispered about me weren't so nice, I heard some of it. A friend of mine once got a lower test score than me and his mother, not knowing I was near, scolded him saying, "You cannot do worse than Frank!"
Today, I am a husband and a father with a master's degree and a job with Americans for Limited Government. With a little help from Vice TV, I have been cajoled into participating in a wrestling reunion show. I want to make the best of it and celebrate what the free market did for me. We can boast of our successes. I can also boast of the career opportunities that came as a result of the show. There's something else of note here. Think about what it has done for the economy to have these stars generating funds with theatres, merchandising, pay-per-view outlets, TV networks and arenas.
I often note that those people who joked about me all those years have literally been surrounded by my work for around two and a half to three decades. This country allowed me to laugh at those who once laughed at me and I love it!
Wrestling is one of many examples of how the free markets work. People who have a catchy idea can take it and use it to build a business. They can generate fame or money for themselves if they want. If they are willing to take their talents and work hard to make something out of them, they can do it.
I am concerned that the free market could be slipping away and may be a thing of the past in 20 years.
If we end up with a power shift to the left in Washington, we could well see the beginning of the end of the free market. The system that made America the shining City on a Hill and a land of opportunity could erode. We cannot let that happen. We need to let our voices be heard. This way, those who want to make something happen can do it!
Frank McCaffrey is Director of Americans for Limited Government News and a contributing editor to the Daily Torch.