Red state governors are increasingly rejecting pandemic federal unemployment benefits in an effort to get people back to work and off the government dole.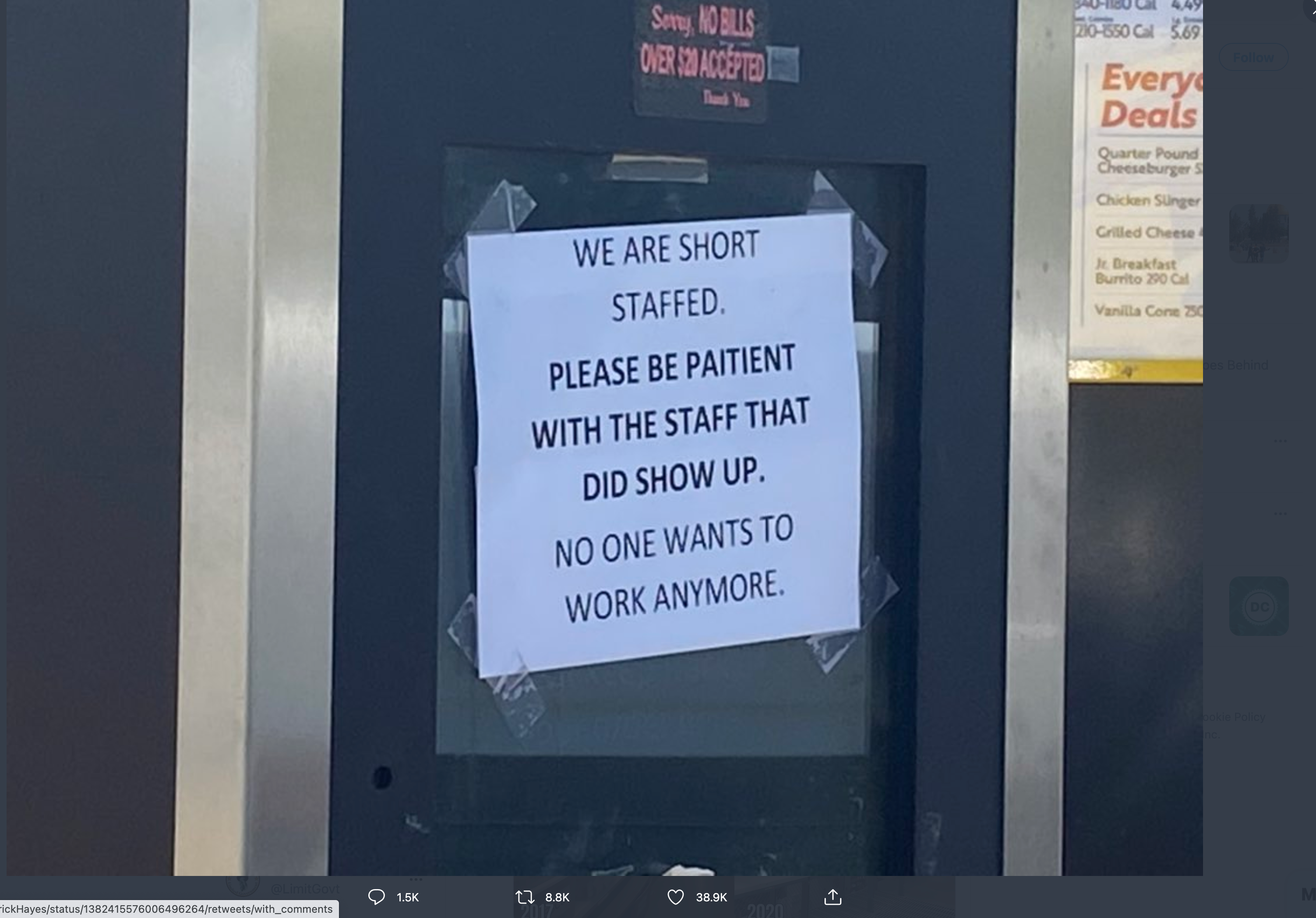 The governors of Montana, South Carolina, and Arkansas have rejected the increased pandemic unemployment saying it is creating perverse incentives for people not to return to work.
According to CBS News, other states are pondering similar measures, in light of the Friday report from the Department of Labor showing that the economy added 266,000 jobs in April, far fewer than the 1 million experts expected.
On Sunday, Utah Governor Spencer Cox told CNN he thinks exiting pandemic-related unemployment benefits is a good idea, arguing the recent lower-than-expected jobs report is "what happens when we pay people not to work."
As workers choose to stay home and collect generous unemployment benefits rather than return to restaurant and service-industry jobs, it is becoming clear that this is no accident. In passing the  $1.9 trillion American Rescue Plan Act earlier this year, President Joe Biden and Democrats in Congress gave workers leverage to demand what they call a "living wage."
In New Mexico, a recent story in the Albuquerque Journal illustrates the problem.
"Job vacancies at Fresquez Companies have numbered in the dozens for the past several months.

"With few applicants and nearly 80 open positions, the company — which owns and operates multiple restaurants in New Mexico, including both locations of Mac's Steak In The Rough and airport eateries like Black Mesa Coffee Company — decided extra incentives were needed to bring in applications.

"Eventually the company landed on offering a $500 sign-on bonus for every new hire.

"I think part of it is, it's almost like we're competing with unemployment," administrative assistant Dory Nuñez said. "… Why would anybody want to, I guess, start at a minimum wage job when they can be earning more money … on unemployment?"
Fresquez Companies isn't alone in the struggle to find employees, the Albuquerque Journal reported.
Help wanted signs are cropping up in the windows of many restaurants and businesses around the city and state. This photo by a local TV news reporter generated thousands of likes and retweets. It's from a fast-food restaurant and reads "We are short staffed. Please be patient with the staff that did show up. No one wants to work anymore."
Sonic in Albuquerque says "No one wants to work anymore." pic.twitter.com/CR128n60mM

— Patrick Hayes (@KOBPatrickHayes) April 14, 2021
Many of those commenting used the situation to call for higher wages and better benefits.
Instead of complaining why don't they look I word and figure out WHY people dont want to work for them.. and don't use the Stimulus/unemployment as an excuse. Companies need to pay better, provide healthcare, and other essential services. They are done working minimum wage.

— STR (@abqguy2) April 14, 2021
Is this a case of unintended consequences or is this the intended consequence of the Democrat's generous unemployment benefits?
There is no doubt that Democrats intended this outcome. With millions of low-wage workers discovering for the first time ever that they have a better option than what their employer is offering them, many are using this leverage to demand a so-called living wage. Democrats, who have never been able to get widespread support for this scheme in Congress, may now achieve their goal of either a 'livable wage' or a basic universal income.
A basic universal income would mean anyone could qualify for a government subsistence level check regardless of their ability to work.  If that were adopted, Democrats would no doubt seek to expand Medicaid benefits to these individuals and eventually move to a single-payer health care system where the federal government pays for everyone's healthcare costs. And voilà, we have European-style socialism.
How do we prevent this Socialist utopia from destroying our country? More states must follow the lead of Montana, South Carolina, and Arkansas. All are stopping the flow of federal Pandemic Unemployment Insurance, $300/week on top of state benefits.
Montana Governor Greg Gianforte has dropped his state from participating saying "…we're doing away with these supplemental benefits, we're reinstituting work requirements and we're putting this incentive to go back to work, The incentive is a $1200 back to work state bonus for Montanans currently on unemployment who take a job and stay on it for at least a month."
In taking the action, the governor recognizes that in his state, '…nearly every sector in our economy faces a labor shortage.
Rather than continue programs that promote on-going unemployment, Gov. Gianforte is choosing a different pathway of incentivizing people on the unemployment rolls to go back to work.  What a concept, incentivize actions we want to promote rather than those which we want to discourage.
Similarly, South Carolina Gov. Henry McMaster has ordered the state's Department of Employment and Workforce to withdraw from the federal government's federal pandemic unemployment programs.
"What was intended to be a short-term financial assistance for the vulnerable and displaced during the height of the pandemic has turned into a dangerous federal entitlement, incentivizing and paying workers to stay at home rather than encouraging them to return to the workplace," McMaster wrote.
It is this kind of forward-thinking problem solving which is currently missing in our national economic recovery discussion as Congress and the Executive Branch are intent on increasing American's dependency upon helicopter money and the velvet handcuffs of government which come with it.
Catherine Mortensen is Vice President of Americans for Limited Government.