If generals are willing to ignore the chain of command and ignore orders, they have effectively committed a coup. They need to be fired, court-martialed, and tried for treason.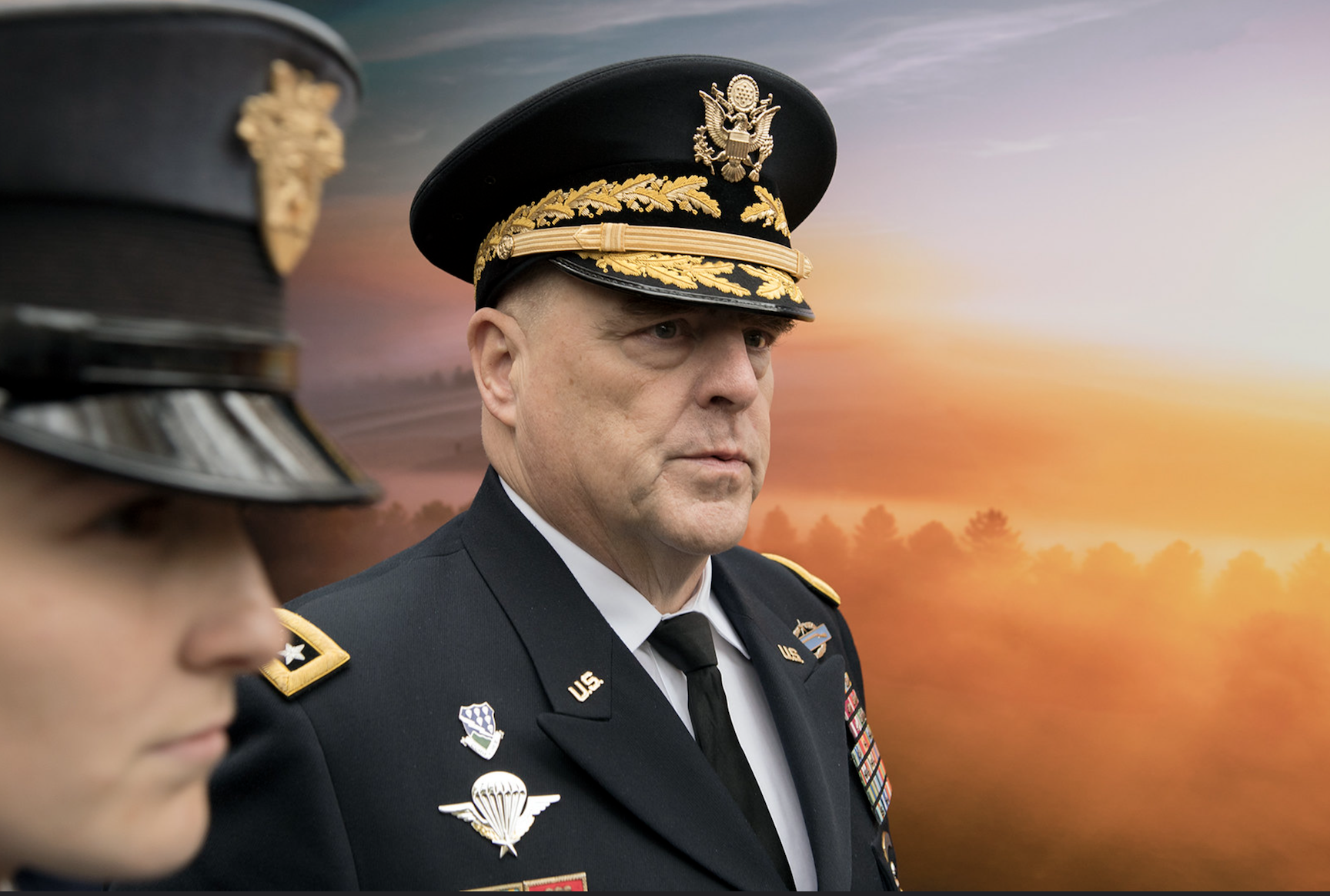 By Richard Manning
Through secret backchannels unbeknownst to then-President Donald Trump, General Mark Milley informed leaders from the Chinese Communist Party and Democratic Party that he would not carry out "any kind" of military action ordered by Trump.
The stunning revelation comes from a book by Washington Post reporters Bob Woodward and Robert Costa entitled Peril and amounts to an admission of an effective coup d'etat at the top of the U.S. government, with U.S. officials colluding with the Chinese Communist Party to limit Donald Trump's powers.
According to the National Pulse, who was given an advance copy of the book, Gen. Milley, who controversially defended teaching Marxist "critical race theory" in the military,  telephoned his Chinese Communist Party counterpart, General Li Zuocheng, twice in the final months of the Trump administration.
Milley's calls were aimed at restricting the President of the United States' abilities to wage kinetic war against China. Shockingly, Milley even secretly pledged to inform Beijing ahead of any potential U.S. military action.

On the first call on October 30th, 2020, just four days before the U.S. election, Milley assured his Chinese Communist Party friends that the U.S. would not attack China: 

"General Li, I want to assure you that the American government is stable and everything is going to be okay. We are not going to attack or conduct any kinetic operations against you." – Gen. Milley

"General Li, you and I have known each other for now five years. If we're going to attack, I'm going to call you ahead of time. It's not going to be a surprise," he added. "Li took the chairman at his word," the Washington Post notes.

The second call between the two generals, of which Milley did not inform Trump, took place on January 8th, 2021.

"Things may look unsteady," Milley posited to Li, adding "but that's the nature of democracy, General Li. We are 100 percent steady. Everything's fine. But democracy can be sloppy sometimes." In response, Li suggested that the Chinese Communist Party felt that the United States government was unstable during the hour and a half phone call.

Milley believed that Trump would attempt to create a crisis in an effort to seize power, "similar to Hitler's exploitation in 1933 of an arson fire at the German Reichstag to help institute emergency powers," according to The Washington Post.

To address these unfounded fears, Milley spoke to Speaker Nancy Pelosi, informing her that he would prohibit Trump from using "any kind" of military force."
As The New York Times recounts:
Later that day, General Milley spoke to Speaker Nancy Pelosi, who was growing increasing concerned Mr. Trump would lash out and use military force.

"This is bad, but who knows what he might do?" Ms. Pelosi said. "He's crazy. You know he's crazy. He's been crazy for a long time. So don't say you don't know what his state of mind is."

"Madam Speaker," General Milley said, "I agree with you on everything."

General Milley, who as the president's top military adviser is not in the chain of command, tried to reassure Ms. Pelosi that he could stop Mr. Trump.

"The one thing I can guarantee is that as the chairman of the Joint Chiefs of Staff, I want you to know that — I want you to know this in you heart of hearts, I can guarantee you 110 percent that the military, use of military power, whether it's nuclear or a strike in a foreign country of any kind, we're not going to do anything illegal or crazy," he said.

"Well," Ms. Pelosi said, "what do you mean, illegal or crazy?"

"I can give you my word," General Milley said. "The best I can do is give you my word and I'm going to prevent anything like that in the United States military."
I take these deeply unsettling allegations with a grain of salt. Woodward has made a living off of writing books with dubious sourcing and Robert Costa is a well-known Trump hater.
However, if true, the Chairman of the Joint Chiefs of Staff committed treason by telling his generals not do anything that President Trump directed them to do after Jan. 6. He effectively left America without nuclear deterrence for 14 days.
Milley has proven to be totally incompetent, unwilling to stand up for America's interests, but willing to surrender to the Taliban. He is completely willing to follow whatever orders he got from Joe Biden, including leaving billions of dollars in American military equipment on the ground in Afghanistan, including negotiating with the Taliban to get U.S. Black Hawk helicopters currently in Turkmenistan. The Taliban doesn't even control that territory. Based on pictures in the public domain, Milley has overseen the transfer of billions of dollars in cash palettes to the Taliban.
If what Woodward and Costa are reporting is true, Gen. Milley has committed treason. He put America at incredible risk by notifying the Chinese that Donald Trump didnn't control the military.
I pray these reports are not true.  Because if they are, it is evidence that the entire system is corrupt. And that becomes a real problem for a future president trying to do their job because if generals are willing to ignore the chain of command and ignore orders, they have effectively committed a coup. They need to be fired, court-martialed, and tried for treason.
Richard Manning is President of Americans for Limited Government.