"The DoD should focus on real threats that pose a clear and present danger to our nation – not those who refuse to bow to the woke orthodoxy pushed by Liberal elites in the mainstream media, academia, and government." Senate Republicans' letter to DoD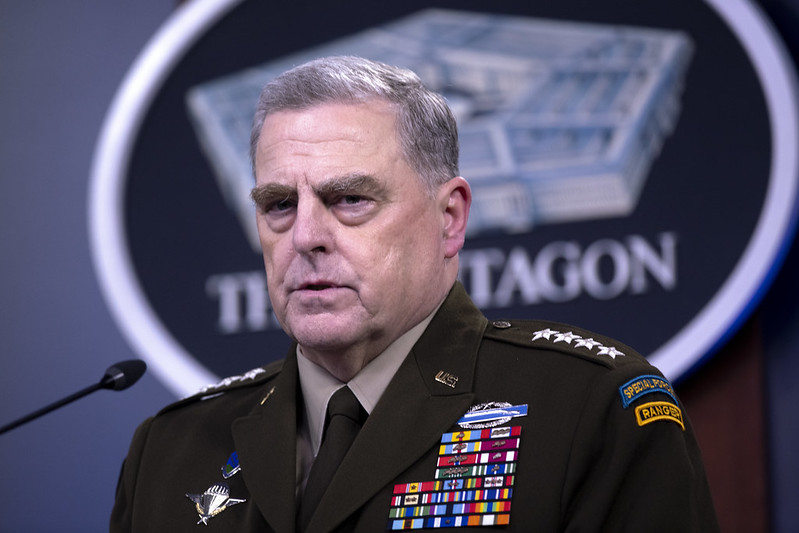 Senator James Lankford (R-OK) along with Senators Marco Rubio (R-FL), Rick Scott (R-FL), Thom Tillis (R-NC), Kevin Cramer (R-ND), Mike Braun (R-IN), Josh Hawley (R-MO), Tom Cotton (R-AR), John Boozman (R-AR), Roger Marshall (R-KS), Steve Daines (R-MT), and Mike Lee (R-UT) sent a letter to U.S. Secretary of Defense Lloyd Austin expressing their concern that the U.S. Department of Defense (DoD)'s recently established Countering Extremism Working Group (CEWG) could be used to "target service members who voice opposition to woke, Leftist ideology under the guise of protecting our 'national security interest.'"
In their letter, the senators noted that, "The CEWG's tasks appear to be more in line with an intelligence collection effort focused on service members than an honest effort to improve the DoD."
Due to these concerns, the senators pressed Secretary Austin to provide answers to the following questions:
What type of intelligence collection will the DoD create to monitor these activities and initiatives, and who will monitor them?
What is your plan to protect service members' Fourth Amendment right to due process under the Constitution?
What safeguards are in place to ensure the CEWG will not have a chilling effect on service members' willingness to engage in protected political speech?
How many extremists has the DoD found within its ranks from January 2011 to November 2021?
"The CEWG's tasks appear to be more in line with an intelligence collection effort focused on service members than an honest effort to improve the DoD. These tasks include incorporating algorithms and additional processing into social media screening platforms, and training military leadership on "gray areas" such as reading, following, and liking extremist material and content in social media forums and platforms. In today's society, the definition of "extremist" is skewed to the person creating the definition. Service members respect clear, unambiguous terminology and application of counter-extremist efforts. However, there is nothing straight forward in understanding "gray areas," which by definition, are meant to be vague, and allow the possibility of being subjectively used in a way that disenfranchises service members from even using social media.
"Identifying and neutralizing extremist threats in, and among our service members, is an important goal. It is imperative that the Biden Administration and the DoD use existing resources to target legitimate threats, not use this working group as a cudgel to harass or silence conservative members of the armed forces." 
Rep. Ronny Jackson (R-TX), U.S. Navy Rear Admiral (Ret.), recently expressed similar concerns about the woke agenda in a guest column in the Amarillo Pioneer:
"I am frustrated and deeply disappointed that the organization my family and I dedicated our lives to is falling victim to the woke left's agenda.
"As a member of the House Armed Services Committee (HASC), I want to focus on substantive issues like the threats we face from adversaries like China, Russia, and Iran. These countries are working overtime to undermine American interest, yet President Biden is more focused on injecting his radical agenda into the DoD.
"In Biden's discretionary budget request to Congress he asked us to cut topline defense spending even though that goes against the National Defense Strategy, a strategic, guiding document created by the DoD. I was also stunned to see how he ranked his priorities in the discretionary request. He specifically ranked social initiatives and nonsense like the Green New Deal ahead of countering biological threats, modernizing our military, and taking care of military families. This will force the DoD to make difficult decisions to cut key programs that could protect our country, all in the name of promoting Biden's radical, socialist agenda.
"Democrats are using the military as a laboratory for their woke experiments. For example, in our HASC subcommittees we continue to work on made up issues like extremism and white supremacy in the military instead of addressing real threats."
Rep. Jackson introduced the Stop Cancel Culture from Degrading Honor Act to make Medals of Honor and other military decorations permanent after ten years have passed.
Americans for Limited Government President Richard Manning applauds efforts in the House and Senate to protect our service members from the woke cancel culture.
"Rep. Jackson is exactly right," Manning said. "Men and women who bravely fought and died for our country should be safe from the revisionist history of radical Democrats like Elizabeth Warren and AOC."
Catherine Mortensen is Vice President of Communications at Americans for Limited Government.