While Asians have overwhelmingly supported Democratic candidates in recent years, that trend appears to be reversing.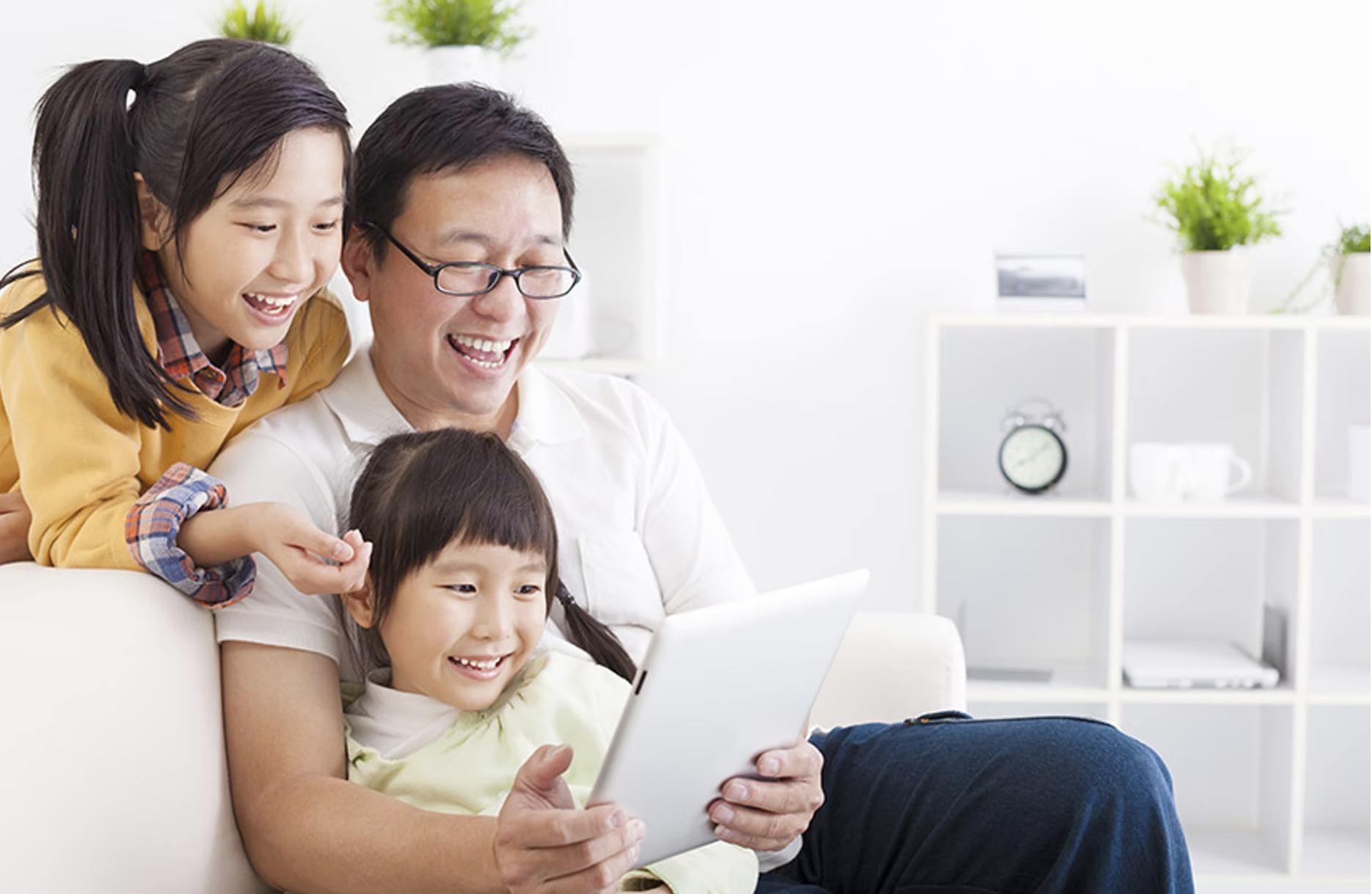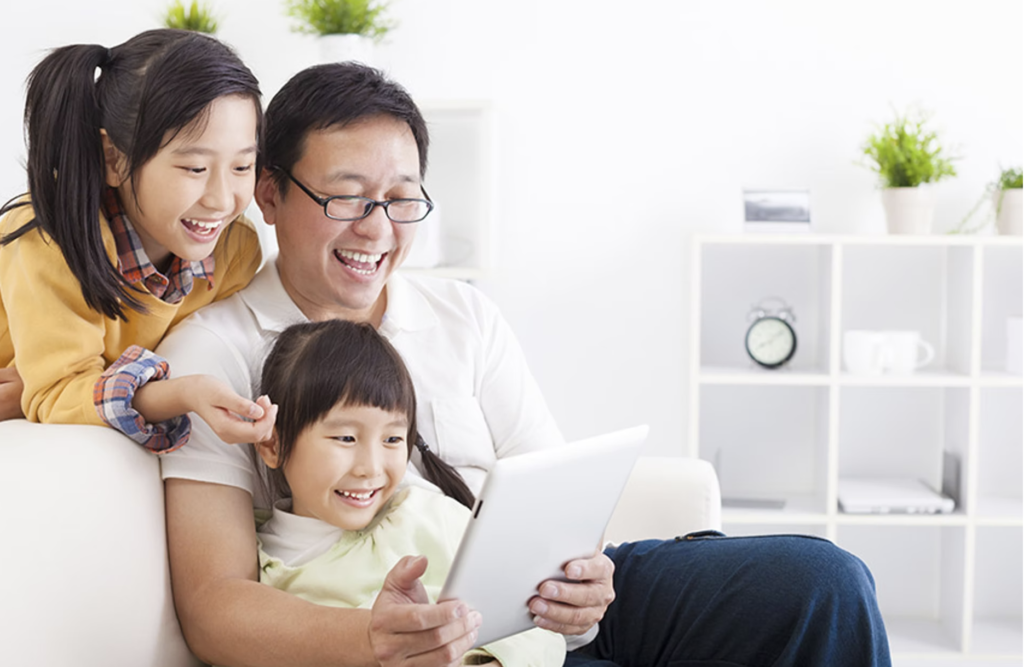 Evidence of a marked Asian shift away from the Democratic Party is beginning to emerge at the same time as Asians substantially increase their voter participation. With the right approach, Republicans have a sizeable opportunity to build inroads with Asian voters, particularly Cambodian, Vietnamese, and Korean Americans who show more conservative tendencies.
Asian voters saw a ten-percentage point increase in voter turnout between 2016 and 2020 and are now the fastest growing racial demographic in the US. While Asians have overwhelmingly supported Democratic candidates in recent years, that trend appears to be reversing.
According to exit polls, President Biden underperformed Hillary Clinton with Asian Americans by four percentage points nationwide in 2020, while Trump gained 7 points compared to 2016. Clinton won 65% of the Asian vote in 2016 but Biden won 61%. Trump won 27% of Asian voters in 2016, but bumped his percentage up to 34% in 2020.
Market Research Foundation's (MRF) analysis of the 2021 Virginia governor's race showed Asian and Hispanic voters, as well as lower income voters, were heavily represented in Fairfax County precincts that became more Republican in 2021.
We analyzed the precincts that shifted more toward GOP newcomer Glenn Youngkin compared to 2017 GOP candidate Ed Gillespie and showed precincts that shifted have significantly higher Asian and Hispanic populations, as well as an average annual income nearly 50% lower than precincts that shifted more Democrat.
Below is a map of the Fairfax County precincts that shifted away from the Democratic candidate in the 2021 Governor's races, and a map of the Asian population by census tract.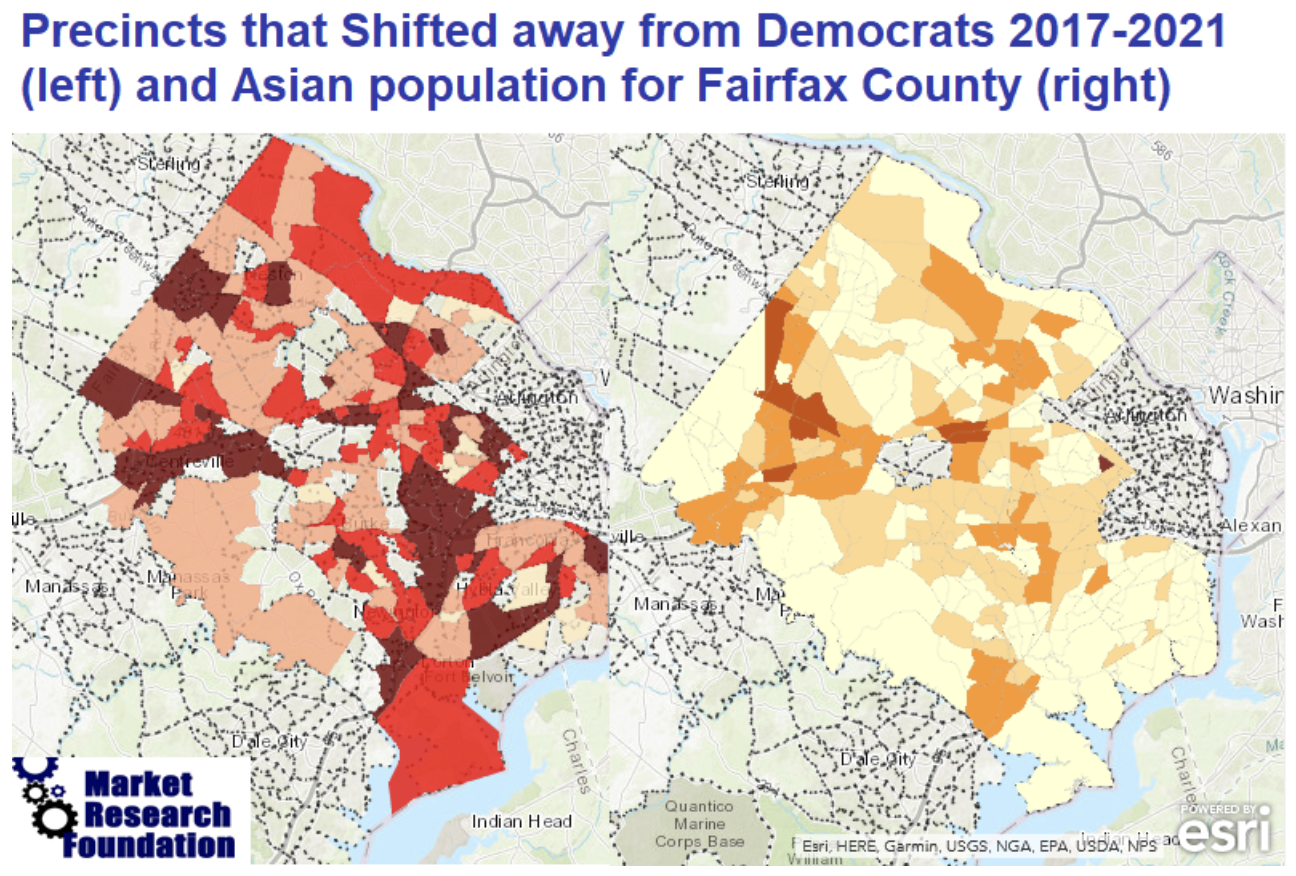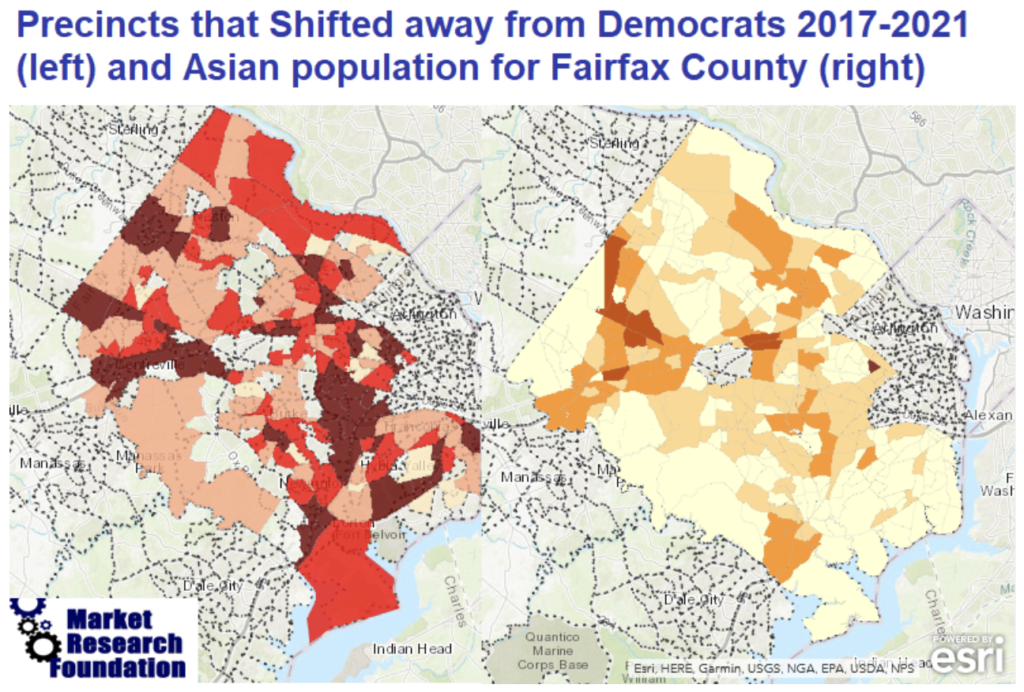 MRF found the ten Fairfax County precincts that shifted away from the Democrat candidate in 2021 the most had an average Asian population of 24.9%, while precincts that shifted toward Democrats the most had an average Asian population of 12.8%.
Looking back at the 2020 election, Trump set in motion shifts toward the GOP in high minority precincts that paved the way for Youngkin's 2021 gains. We compared Youngkin and Trump's win margin in Fairfax County precincts and found Trump was already wining sizeable margins in high Asian precincts.
In Willston for example, which saw a -21.49% Democrat shift between 2017 and 2021, Trump's advantage over Youngkin was 8.57%.
Trump was pulling in larger margins in seven of the top ten precincts that became markedly more Republican between 2017 and 2021, and the Asian populations ranged from 15% in Heritage to 56% in Powell.
In California, which boasts the largest Asian American population in the US at around half a million people, Trump gained 5 points with Asian voters in 2020 over his 2016 numbers but Biden also gained 6 points. In 2020, Biden won 76% of Asian Americans and Trump won 22%, while in 2016 Clinton won 70% and Trump won 17%. Third Party candidates Jill Stein and Gary Johnson each won 6% of the Asian vote in California in 2016 as well.
Down ticket races in 2020 showed a more marked shift toward the GOP in heavy minority districts. Of the thirteen House seats the GOP flipped in 2020, four of them were in densely minority districts in California, and all four elected minority Republican House members.
In Texas, with boasts about 1.2 million Asian Americans, Biden saw a nine-point decline compared to Clinton among Asian voters. Clinton won Asian Americans 72% to Trump's 26% in 2016, but Biden won just 63% in 2020. Trump earned 30% in 2020, a four-point gain since 2016.
The Asian American Legal Defense and Education Fund published a report on Asian American voters in 2020, and their data shows Trump won substantial shares of the Asian vote in battleground states, especially with Koreans, Cambodians, and Vietnamese Americans.
In Pennsylvania, Trump won 36% of Asian Americans, but broken down into ethnic group, he won 50% of Cambodian Americans and 73% of Vietnamese Americans.
In Georgia, Trump won 36% of Asian Americans and a full 60% of Koreans, and in Nevada Trump won 40% of Asians and 46% of third party Asians.
Newly released Census data shows Asian Americans saw a 10-percentage point rise in voter turnout between 2016 and 2020, compared to just six points for Whites and Hispanics and 3 points for Blacks.
According to Census data, the Asian turnout rate peaked in 2020 with 59% of eligible voters casting votes, compared to 49% in 2016, and 47% in both 2012 and 2008. This represents a 25.5% increase in voter turnout among Asian Americans between 2012 and 2020.
Asian Americans are now the fastest growing ethnic group in the U.S. according to the Pew Research Center, and make up just under 5% of eligible voters, or 11 million votes nationwide.
Market Research Foundation's First Generation research shows Southeast and Central Asians in particular are open to conservative messages and a significant majority identify as moderates or independents. Among South/Southeast Asians, 50% of respondents in our survey identified themselves as moderates on economic issues, while 25% identified as liberal and 24% identified as conservative. Those numbers were even more favorable among Central Asians, with 55% identifying as conservative on economic issues, 27% identifying as moderate, and just 17% identifying as liberal.
We also found 15% of South/Southeast Asians identify as Republicans, and 54% identify as Independents, while 27% identify as Democrats. Among Central Asians, a full 44% identified as Republican, 37% identified as Independent, and just 19% identified as Democrats.
Democrat campaigns tend to go after Asian voters as an after-thought, and only approach them in the weeks before a major election instead of building relationships early on. With the right message, Republicans have a significant opportunity to grow their share of the Asian vote in the midterms, particularly with careful attention to the diverse range of views and priorities of various Asian groups.
The mission of Market Research Foundation is to combine big data and predictive analytics with grassroots contact methods to provide citizens with highly targeted, relevant information to make informed civic decisions.