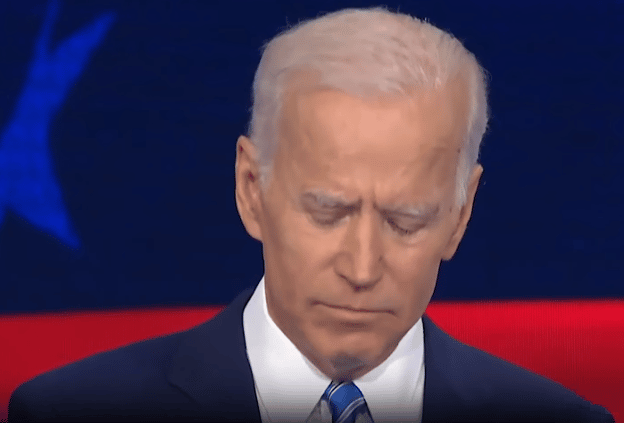 A whopping 37 percent of Democrats and 76 percent of independents believe President Joe Biden, now 79-years-old, is too old to be the President of the United States, a new Harvard-Harris poll taken April 18 through April 19 shows.
The results come as Biden is expected to announce his reelection bid this week, with serious doubts mounting as to his ability to compete, both in the general election—the same poll shows Biden trailing former President Donald Trump by 5 points, 45 percent to 40 percent—and even in the Democratic Party presidential primary.
There, Harvard-Harris has Biden only leading with 37 percent for the Democratic nomination, although to be fair, it has him running against a field of "candidates" who are not even running against Biden in the primary. Still, it appears Democratic voters overwhelmingly prefer that somebody else run when given a choice, even if he still leads the pack.
When Biden is pitted against actual candidates—so far, only Robert Kennedy, Jr. and Marianne Williamson have announced—he fairs much better, although still appears to exhibit weakness against the relatively underfunded candidates garnering very little media reporting.
In a USA Today/Suffolk University poll taken April 15 to April 18, Biden garnered 67 percent, Kennedy had 14 percent and Williamson had 5 percent.
That's actually an improvement for Kennedy, who in a Morning Consult poll on April 7 through April 9, Biden was ahead of Kennedy, 70 percent to 10 percent, with Williamson at 4 percent.
Meaning, Biden is taking on water—fast.
Either poll is rather weak for an incumbent president against relatively obscure candidates, although Kennedy appears to be overcoming that hurdle owing to his family name—his father was Robert F. Kennedy and his uncle was John Kennedy—and could be a factor in the primary, if not to beat Biden, then to expose Biden's potential weakness in the general election.
It wouldn't be the first time. 1912, 1932, 1952, 1968, 1976, 1980 and 1992 all saw incumbent presidents with significant primary challenges. In every single case, the incumbent president either declined to seek reelection, as with Harry Truman in 1952, who lost the New Hampshire primary, and in 1968, when Lyndon Johnson barely beat Eugene McCarthy and then decided to withdraw from the race altogether.
And so, Biden has to choose what he is doing—even after he has already said he was running again.
In October, Biden said, "it's my intention – my intention to run again." But he held off on making a formal announcement since, he argued, "once I make that judgment, a whole series of regulations kick in and … I treat myself as a candidate from that moment on."
In November, after Democrats surprised in the midterm elections, although losing the House to Republicans, picked up a Senate seat, and Biden reiterated, "our intention is to run again.  That's been our intention, regardless of what the outcome of this election was.  And the fact that we won — we — I didn't run — the fact that the Democratic Party outperformed anything anyone expected and did better than any off-year presidency since John Kennedy is one that gives everybody, like, 'Hoo'— sigh of relief — that the MAGA Republicans are not taking over the government again…"
And most recently, in February, after the ABC News-Washington Post and AP-NORC polls dropped, showing Democrats still want somebody else to run, Biden still stopped short of formally announcing his candidacy in an interview with Telemundo, stating, "I'm just not ready to make it."
When asked about the results of the polls showing Democrats don't want him to run, Biden said, "That's not what I hear… Look, do you know any polling that's accurate these days? You all told me that there was no way we were going to do well in this off-year election. I told you from the beginning we're going to do well. Y'all told me I couldn't win the general election. We did well. I feel good about where we are."
Biden added, "It may be that, you know, I run, I get clobbered, and if I run, I win. I mean, that's not my motive. That's not the basis upon which I make the judgment."
And yet, doubts have remained about Biden getting into the race officially, which he appears to be about to do by filing the paperwork. Would he even get a bounce in the polls after making an announcement? Would there be a crowd cheering? The optics of such an announcement would be telling.
The fact it has taken this long to make an announcement shows there could indeed be political factors weighing on the President and his team's minds. Now, only time—and Biden—will tell if he's changed his mind.
Robert Romano is the Vice President of Public Policy at Americans for Limited Government Foundation.