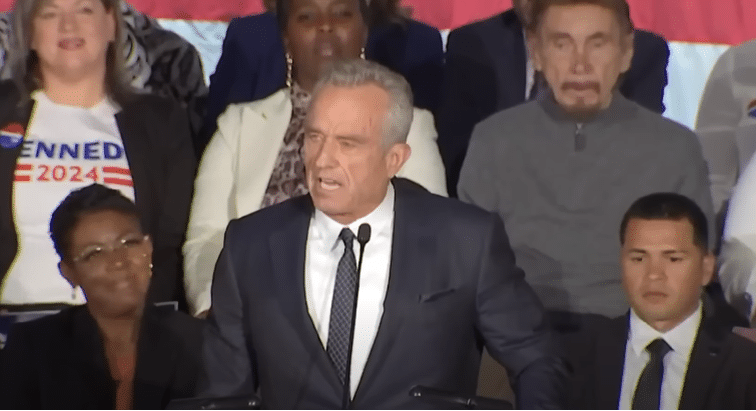 By Bill Wilson  
Joe Biden is under fire from all sides, with nearly two-thirds of Democrats saying they think the party should nominate someone else, and critics elevating anti-establishment challengers like Robert F. Kennedy Jr as well as mounting attacks with third-party candidates.
Kennedy's choice to challenge Biden for the Democratic nomination for president has wide implications for the Democratic primaries, as well as for former President Trump's chances of splitting the Democratic vote in the general. However, the fact that Kennedy, an avid critic of big government covid mandates, corporatism, and Anthony Fauci is rapidly rising in the polls proves anti-establishment sentiment is on the rise on the left as well as the right. 
Under the Biden Administration's draconian leadership, Fauci and Democratic legislators had the American people and the economy as a whole in a stranglehold during the pandemic, and a growing share of the left is critical of harsh mandates and lockdowns and views them as a gross misuse of power.
Mass economic shutdowns caused millions of Americans to suffer job loss and reduced employment, and vaccine mandates all but removed the concept of personal choice and privacy from medicine. Draconian government mandates and highly politicized narratives did little to ingratiate the CDC and globalist organizations like the World Health Organization to a broad swathe of the public.
There is no doubt the optics of the pandemic were terrible from a public policy standpoint, and many Americans no longer trust the establishment in the wake of the way the pandemic was handled, which is one reason R.F.K and other alt-left candidates are amassing enough support to worry the Democratic Party elite.  
This comes on top of news that former Sen. Joe Lieberman, the Connecticut Democrat turned Independent who is a self proclaimed centrist, recently announced he's actively engaged in the process of finding a third-party candidate to challenge and defeat Biden. Lieberman was vocal about supporting Biden in 2020 but believes Biden has governed too far to the left and is seeking a third-party candidate with the hope of unseating Biden. Lieberman stated that "centrists and moderates feel that [Biden has] governed more from the left than they hoped. He hasn't been able to be the unifier that he promised to be."   
Meanwhile, alternative candidates like Marianne Williamson and R.F.K are gaining traction in recent polls, despite being discredited as long-shots by the mainstream media who continue to prop up Biden.
Comparing the recent numbers to a previous poll conducted by Morning Consult just a month ago, Kennedy's support has doubled from 10% to 21% per Emerson, while Williamson's has also increased from 4% to 9%. These findings indicate a substantial surge in support for alternative candidates who are willing to challenge the status quo.
Kennedy's popularity is particularly strong among women, voters over the age of 65, and non-college educated Democrats. On the other hand, Williamson performs well with women, younger voters, and college-educated Democrats.
A recent Morning Consult poll reveals that 13% of women, compared to 7% of men, would back Kennedy as a primary challenger. Among voters over the age of 65, 17% express support for Kennedy, while younger age groups hover around 9%. Similarly, 12% of non-college Democrats support Kennedy, compared to 10% of college graduates. These findings suggest that Kennedy holds an advantage among the working-class and older voters.  
Over the same time period, Biden's approval rating has declined substantially, particularly among Democratic women. While 78% of men say they'd support Biden in the primaries, only 61% of women share the same sentiment, representing a nearly twenty-percentage point difference.
When Democratic leaners were asked if the party should nominate Biden again or opt for someone else, a notable 58% favored choosing another candidate. These numbers were even higher among younger individuals and Independents who lean Democrat. Among young Democrat leaners, a striking 76% preferred another nominee, while 64% of non-white Democrat leaners expressed the same viewpoint.
There is a widespread consensus among the public that President Biden is unfit for his job, and concerns regarding his health and age extend to the next six years. Democrats, Democratic-leaning individuals, and swing voters, including young people, women, and Independents, are increasingly of the opinion that the Democratic Party should nominate someone other than Biden for the 2024 election.
The surge in support for anti-establishment candidates like R.F.K and challengers from the center as well indicate a fracturing as the left begins to eat its own. Leftists who challenge the status quo and find fault with the Biden Administration's handling of issues like the pandemic, the Ukraine war, and health policy are finding alternatives like R.F.K more appealing, while the Party Elite remains beholden to their globalist handlers. The party labels are becoming increasingly meaningless, and there are more opportunities for alternative candidates to make their arguments against the status quo, as the American people are hungry for change. 
Bill Wilson is a former president of Americans for Limited Government.