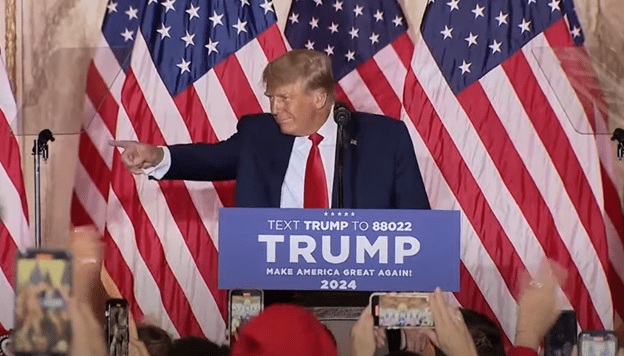 By Manzanita Miller
A new Harvard CAPS-Harris Poll shows former President Trump leading President Biden by seven percentage points in a head-to-head matchup for the role of president in 2024, a reversal from previous months. The poll shows Trump with a double-digit lead among Independents and suburbanites, groups that favored Biden in the 2020 election and now appear to be moving toward Trump. 
According to the survey, if the 2024 election were held today, 47 percent of respondents would vote for Trump and 40 percent would support President Biden, while 13 percent either did not know or were unsure about their choice.
The former President is consolidating support with groups who supported him in 2020, including whites, men, and rural voters. Trump leads Biden by 15 percentage points with men, 18 percentage points with white voters, and a full 26 points with rural voters.
However, groups that could hardly be construed as hard-Republicans are moving toward Trump as well. Trump leads Biden by 13 percentage points with suburban voters, 15 percentage points with Independents, and six points with younger voters under age 35.  All these groups largely supported Biden, and their departure from the Biden camp should they choose not to support his reelection will have a significant impact on the primaries and the general election.  
Among college-educated voters, Trump and Biden are locked in a dead-heat, which itself is interesting because college-educated voters were instrumental to Biden's 2020 success. The new poll shows 45% of college-educated voters would support Trump and 45% would support Biden, while voters without a college degree would support Trump by 11 percentage points. This is a significant closing of the college-educated gap, at least in this particular poll.
The issues that appear to be driving formerly-Biden-friendly groups toward Trump are primarily economic and foreign affairs matters. For example, Independents disapprove of Biden's handling of inflation by 46 percentage points, and suburban voters disapprove by 29 percentage points. Inflation is also a pain point for younger voters who disapprove of the president's handling of inflation by 13 percentage points.
Independents also disapprove of Biden's handling of foreign affairs by 23 percentage points, while suburban voters disapprove by 16 percentage points and young people disapprove by a full 24 percentage points.
The poll also found when Biden was pitted against Florida Governor Ron DeSantis, who has officially announced his campaign for President this week, Biden and DeSantis were in a dead heat with each receiving 50 percent of the vote.
This comes on top of a recent Real Clear Politics poll showing Trump leading DeSantis by a full 37 percentage points among GOP primary voters.
Trump has rapidly gained against DeSantis among GOP primary voters in the past two months, going from 43% of the vote in March of this year to 56% of the vote today. Meanwhile DeSantis has been slipping in polls, even though he has yet to officially announce his candidacy.
The most recent Real Clear Politics poll showed Trump securing 56% of the vote to DeSantis' 19.9% and Mike Pence earning 5.9% of the vote. News of Trump's indictment in March for alleged hush money payments and the recent jury verdict finding him at fault for defamation and abuse have only increased his polling numbers, as Trump denies all wrongdoing.
DeSantis is expected to officially announce his presidential bid on Twitter this week in a talk with Elon Musk, and it is possible in doing so he'll enjoy a bump in the polls, particularly in his home state of Florida. In addition to recent polling data which indicates that Trump is gaining popularity among various segments of the Republican party including young people, minorities, independents, and lower-income voters, there are notable shifts in his favor.
Comparing YouGov polls conducted in late March to those conducted in April, Trump's support among voters under thirty increased by 9 percentage points following news of his indictment. Moreover, he gained 7 points with lower-income voters and 6 points with Independents. Even urban voters and moderates have shown a slight inclination towards the former President, with a 4 percentage point increase in support compared to nearly two months ago.
YouGov polls further reveal that over half of GOP primary voters aged 18-29 (51%) have a favorable view of Trump, while only 43% hold the same view of DeSantis. Among voters aged 30-44, Trump is favored by 49%, whereas DeSantis has the support of 36%. Trump also holds a 7 percentage point lead over DeSantis among voters aged 45-64, but DeSantis is preferred by 5 percentage points among voters over 65.
According to an April YouGov poll, two-thirds of young GOP primary voters express support for Trump as the GOP nominee in 2024. Among right-leaning individuals under 30, 66% want Trump to become the GOP nominee, compared to 51-56% among older age groups.
Furthermore, an average of two April polls conducted by CNN/SSRS and Quinnipiac University reveals that Trump holds a substantial lead over DeSantis, with approximately 29 percentage points (55% to 26%) among voters of color, as well as a 22-point lead among voters earning less than $50,000.
Trump is holding onto support with GOP-friendly voters including non-college whites, rural voters, and lower-income voters, but he is also gaining support from swing voters. His polling numbers are up with suburbanites, independents, college-educated voters, and young people – groups that were instrumental to Biden's election in 2020. Economic issues and foreign policy issues appear to be major drivers of swing voters' dissatisfaction with the Biden Administration. Biden's poor marks on these issues could drive these groups toward Trump or toward Biden's challengers within the Democratic Party.
Manzanita Miller is an Associate Analyst with Americans for Limited Government Foundation.