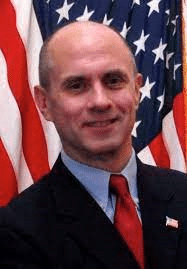 On July 27, patriots lost one of the true activist heroes of the last 50 years when Gary Glenn succumbed to the cancer he has fought for the past seven years.  Gary was a leader in all that he attempted; whether on the sports fields, in politics, or in his devotion to his family and family values.
Gary first entered the political arena at age 19 as a field organizer for the Idaho Freedom to Work Committee.  Five years after joining the operation, Gary led the fight that enacted the Idaho Right to Work law and defended it against a massive counter-attack for organized labor.  In their failed attempt to repeal the law, the unions  conceded that their days as a direct political force were numbered.
From the Cattlemen's' Association defending the rights of agriculture, to working to advance school choice for inner city kids in Detroit to fighting the culture-killing measures of the anti-family forces, Gary was always the point of the spear in fighting the anti-American, leftist forces clawing at America.
Gary's wife Annette followed him as a member of the Michigan House of Representatives.  The two raised a family of four sons and a daughter and a growing brood of grand children.  He will be missed greatly as we enter the harsh and dangerous battles to come.  But his spirit and dedication to faith, family and nation will serve as a constant example of how to proceed.