On: 07/20/2008 14:19:15
In:
Taxes
Since Democrats took over Congress again in 2007, their fiscal ratings have plummeted like a bad stock's price per share.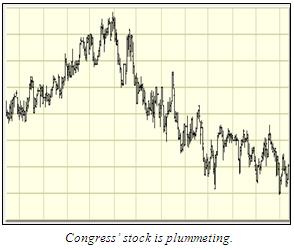 According to the non-partisan National Taxpayers Union, the average "Taxpayer Score" in the House fell from 39 to 35 percent, and in the Senate it fell from 48 to 37 percent. Congress' all-time low was reached in 1988 (27 and 28 percent, respectively) with Democrats in control of both the House and Senate, and its all-time high was in 1995 (58 and 57 percent) after Republicans took control both houses.
This year's rating can be viewed here.
The NTU's annual rating system is considered among the most objective measures used to chart how fiscally conservative the Congress actually is. The NTU described its rating system in its press release:
"Unlike those of other organizations, NTU's annual Rating does not simplistically focus on a handful of equally weighted 'key votes,' but every roll call vote affecting fiscal policy — appropriations, authorization, and tax bills; budget target resolutions; amendments; and certain procedural votes that could affect the burden on taxpayers. For this reason, it has received praise from lawmakers on both sides of the aisle, including former Sen. William Proxmire (D-WI), creator of the 'Golden Fleece Award.' A Member of Congress's 'Taxpayer Score' reflects his or her commitment to reducing or controlling federal spending, taxes, debt, and regulation."
The press release also offered a little analysis of the data to examine how Republicans in Congress were responding to the loss of majority control in the 2006 elections:
"The Rating likewise provided clues to how Republicans, now in the minority, responded to their 2006 drubbing at the polls. House GOP Members seemed to have taken the election results as a referendum on their declining fiscal discipline, as the average pro-taxpayer score rose nine points to 69 percent. Senate Republicans, however, didn't seem to get the same memo. Their average fell nine points to 66 percent in 2007. Democrats in both chambers saw drops in average scores: 16 percent to 6 percent in the House and 15 percent to 8 percent in the Senate."
In other words, House Republicans (albeit belatedly) are getting back to their conservative roots, while Senate Republicans are uprooting from their party's history of fiscal conservatism.
Also examined were each presidential candidate's rating:
"Presidential candidates Sens. Clinton and Barack Obama (D-IL) saw significant decreases in their pro-taxpayer scores between 2006 and 2007: 17 percent to 3 percent and 16 percent to 5 percent, respectively. In 2007, however, scores for both Senators were based on less than three-fourths of the weighted total of votes cast. Sen. John McCain (R-AZ), was not issued a score this year because he voted on less than half of the weighted total of votes cast. In 2006, he earned a score of 88 percent."
By any objective measure, if one were to rate the candidates in terms of who could rein in spending in Congress, McCain would have to win hands down.
But with overall ratings this bad, if Congress were a stock, voters would definitely want to sell their shares come November.
ALG CTA: It is clear that Congress still has not learned how to rein itself in, and that voters need to once again send a drastic message to lawmakers who waste taxpayer funds that their days in office are numbered. We encourage you to let your audience know about this new study, and how candidates are stacking up. Voters have a right to know which lawmakers are good stewards of their tax dollars.