On: 10/08/2008 17:29:39
In:
Big Labor
If the New Jersey school system keeps it up, "retirement" is going to very rapidly become a four-letter word.
In 1997, the state's Supreme Court ruled in Abbott v. Burke that New Jersey's funding of poorer, urban school districts was unconstitutional. So it ordered the legislature to ensure that "per-pupil expenditures in the poor urban districts are equivalent to the average per-pupil expenditure in the wealthy suburban districts…" As a result of the ruling, more funds poured into these districts.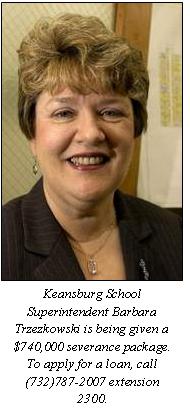 However, instead of spending the money on improving education in those districts, it is all to apparent that the public employees decided to spend the largess on very generous employee benefits. A case in point: one district superintendent is receiving a lump-sum severance package worth more than $740,000 for her retirement – and that's just the beginning:
"A New Jersey school superintendent who raised eyebrows two years ago when she arrived at a hearing on state school aid in a stretch limousine will get a severance package worth more than $740,000 when she steps down next month, documents posted on the school district's website show.
"The payments to Keansburg School Superintendent Barbara Trzeszkowski, 60, come on top of the standard retirement pay — estimated at $120,000 a year — she has earned over a 38-year career in the school district, which is one of 31 so-called Abbott communities that receive millions in special state aid.
"The package includes $184,586 for 235.5 unused sick days and 20 vacation days, and another $556,290 in severance pay calculated by multiplying her monthly salary by the number of years she has worked in Keansburg."
This retirement package, which will ultimately cost the state well in excess of $1 million, has not gone unnoticed by lawmakers already concerned with how much of the $4.3 billion sent in aid to the 31 so-called Abbott districts is being spent:
"'This is the poster child of everything that is bad about Abbott funding,' said Assemblyman Joseph Malone (R-Burlington), a prominent critic of the state Supreme Court rulings in the Abbott vs. Burke lawsuit that require the state to heavily subsidize the 31 poor districts. 'No one deserves that kind of buyout. It's obscene. It's sickening.'"
That's putting it mildly.
In truth, it proves what teachers unions really want when they demand more funds "for the children." They really mean that they want more money for employee benefits, obscene retirement packages, and sickening lump-sum payouts. Apparently, students can only get educated if the board of education gets to shuttle around in stretched limousines and if educrats can retire as millionaires.
Perhaps if the politicians in New Jersey are really so concerned about how to pay for its schools and improve education, they ought to look at the salaries, benefits, and retirements teachers receive. Perhaps they should consider the tenure system. Perhaps they should also consider the quality of education provided, and take note that meritocracy is non-existent in the public school system. Good teachers are not rewarded accordingly, and bad ones cannot be punished. Seniority trumps merit. And burgeoning pay packages trump all.
In other words, New Jersey taxpayers should not be forced to curse to themselves every time they pick up the paper to read about yet another generous package for an educator when the resources to ensure education are scarce. And if they do have to curse, "retirement" should not have to be one of the epithets.
ALG CTA: Americans for Limited Government calls upon journalists nationwide to take a long, hard look at the windfall retirement packages that those in public education, especially administrators, have managed to finagle out of the taxpayer. Eventually, the salaries, benefits, and pensions being offered will consume entire education budgets for states. And that will come at a time when property taxes have already reached unaffordable levels. In other words, if this problem is not resolved soon, we will have more and more teachers making more and more money – and providing less and less quality education.
---