On: 10/13/2008 09:32:39
In:
Big Labor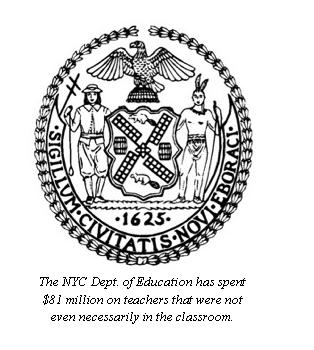 Lest there was any doubt of the counterproductive results upon public education—and State budgets—that are spawned by teachers' unions, one need look no further than the April 30th edition of the New York Times, where a program was reported for out-of-work teachers complete with salary and benefits was implemented that has cost $81 million over the last two years:
"New York City and its teachers' union [have]… created a new set of very costly problems that the city needs to solve very soon. Those problems surfaced this week in a report by a New York research group known as The New Teacher Project, which estimates that the city has been paying $81 million over two years in salaries and benefits for teachers who have not been able to find permanent jobs.
"Under the new free-market system, teachers who lose their jobs because of budget cuts, program curtailments or school closings are supposed to go into a reserve pool for a short time before they are hired elsewhere in the system… But according to the study, 235 of the teachers who entered the pool in the summer of 2006 still had not found permanent teaching jobs by December 2007."
In other words, even if a teacher lost his or her job due to budget cuts, the city was still paying for that teacher's salary! So much for cutting costs… What's the sense of a budget cut if you still have to pay for the thing that's being cut? In addition, the Times reports that "[N]o one really knows how [these teacher] reserves are being used or what they are actually doing."
Not only do schools have to deal with cost inefficiencies that are borne out of collective bargaining by unions, such as this case with New York, but the quality of education is also affected because of tenure, as reported by the Center for Union Facts:
"In March, the Center for Union Facts launched a contest to identify the ten worst union-protected teachers in America and offer them $100,000 to quit – all to illustrate just how hard it is to actually fire a public schoolteacher enjoying union protection.
"It turns out teachers agree. A May 6 national poll indicates more than half of teachers think it's very difficult and time-consuming to get rid of ineffective colleagues who enjoy the union-defended perk known as 'tenure.'"
In other words, many teachers who work very hard with their students are not happy with so-called clock-watchers who no matter how poor their students perform have job security.
In addition, being a good teacher does not ensure job security:
"Another dubious 'achievement' for education unions: a pink slip for a San Diego Teacher of the Year. In California, budget shortfalls are forcing cuts in education spending. And under a state law bitterly defended by California's powerful unions, teachers laid off due to budget cuts must be axed in order of their hire date – regardless of skills or ability. Guillermo Gomez was named a county Teacher of the Year in 2006, but in 2008 he might not be working in a classroom at all, while less competent union members instruct kids instead.
"Another San Diego school had to hand out layoff notices to 24 out of 26 teachers – just as it was named a California Distinguished School. Union seniority is a harsh mistress."
It sure is. Several states have similar schemes—where layoffs occur in order of hire dates instead of based on merit—that lead to good teachers being laid off just because they were not on the job long enough. That is completely backwards.
As the Center for Union Facts notes, "education unions are damaging the profession and our education system" through the tenure mandates that they demand. And as the New York City episode demonstrates, in addition to tenure, teachers can still get paid even when they are not working.

ALG Perspective: With enormous government waste and inefficiency such as noted by the Times and the Center for Union Facts, it is no wonder that parents are increasingly turning to homeschooling and States are looking at implementing school choice initiatives. Parents and students deserve the best education possible at a cost-efficient price, and it is clear that public education institutions are falling far short of that goal because of union mandates. Something's got to give.
---