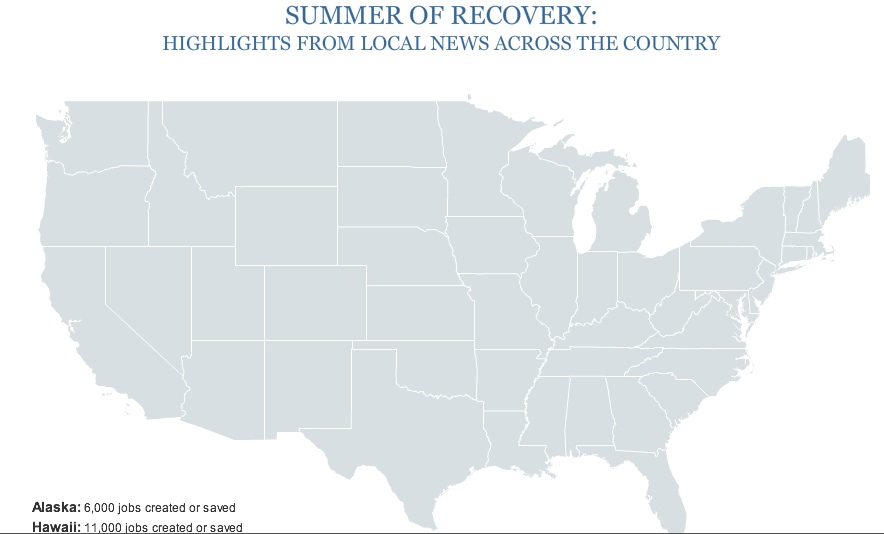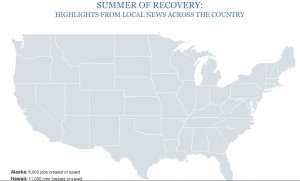 If you haven't checked out the "Recovery Summer" interactive map over at Recovery.gov, it is a must see! Much like the empty promises of the "Recovery Summer", the map is interestingly quite empty.
Some quick "Recovery Summer" map facts:
The "Recovery Summer" interactive map job estimates have not been updated since March 31, 2010. That means that there has not been a single update on jobs created during the entire "Recovery Summer".
Only the continental 48 states are shown on the map. While there is a link to "recovery" information for Alaska, only 31 states have information to display. Stand out states that have nothing to display: Florida, Nevada, New Jersey, Indiana.
If you click on California, you will notice only 6 "recovery act" programs in the state! Surely there has to have been more than that, considering that Virginia is reporting 4 such projects on the map. Harry Reid has no information to campaign on if he was to research his state on this map.
The map is severely flawed, much like the premise of the "Recovery Summer".
But do not lose faith! You can report local news stories to the geniuses behind Recovery.gov that prove "recovery" is happening in your locality.
Perhaps the map is reflective of what "Recovery Summer" really is–no recovery at all.