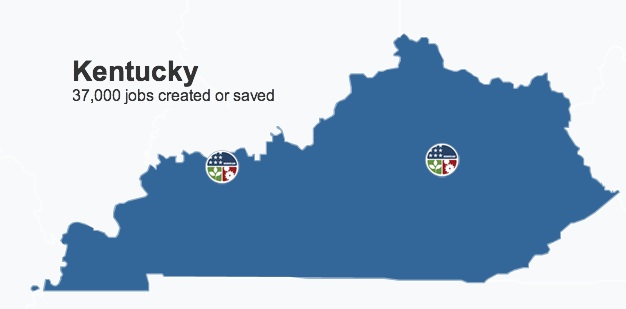 Continuing on the Recovery Summer and Stimulus: State by State, we head to Kentucky.
Quick Kentucky facts:
The employment trend in Kentucky has not been good. Throughout 2009, unemployment rose while "stimulus" money was pumped into the state. A "recovery" was beginning to be noticed in the spring of 2010, but by the time of the "Summer of Recovery" the "recovery" had come to an end. Employment levels are falling again and unemployment continues to rise. (Source: Bureau of Labor Statistics)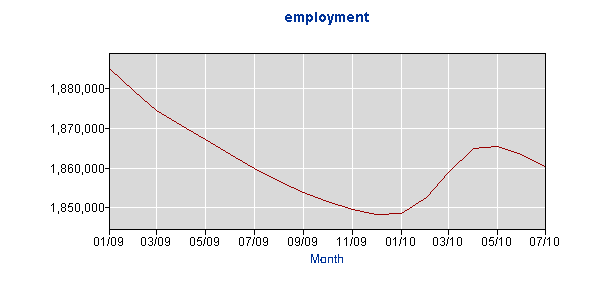 Has the Recovery Act done anything for Kentucky? No.
Has "Recovery Summer" done anything for Kentucky? No.
Kentucky is home to Senate Minority Leader Mitch McConnell who opposed the "Recovery Act" in 2009. Now McConnell is armed with evidence from across the nation and in his home state that the "stimulus" failed to meet the expectations that the Obama administration sold to America. McConnell and the GOP are looking to take back the Senate in the mid-term elections and a key Senate race is in Kentucky this November that could benefit the GOP nominee, Rand Paul, with the economy being the number one issue facing the voters. The economy is tanking in Kentucky and voters are looking for a change. Could Kentucky be home to the Senate Majority leader this January?
Read more on Recovery Summer and the Stimulus Effects on States.
*: The number of jobs created/saved conflicts with other government sources on Recovery.gov. This number was pulled from the latest figured offered on Recovery.gov