Continuing on the Recovery Summer and Stimulus: State by State, we head to Montana.
Quick Montana facts:
The employment trend in Montana has not been good. Since January of 2009, the unemployment rate has stedily risen and the employment rate has seen a sharp decline. More people now than ever are out of work under the Obama administration. Whatever "recovery" there was in the beginning of 2010 has disappeared and the situation has worsened. (Source: Bureau of Labor Statistics)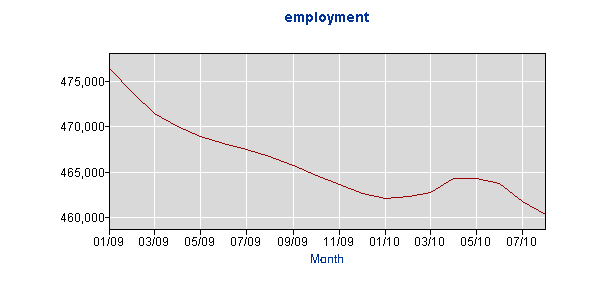 Has the Recovery Act done anything for Montana? No.
Has "Recovery Summer" done anything for Montana? No.
Montana has been flushed with over $1 billion in "stimulus" monies and has nothing to show for it. For a state with such a small population, one would have assumed that the "stimulus" would have done much more. With a steadily increasing unemployment rate, one can see that the "Recovery Act" has done nothing to stop the effects of the recession.
Read more on Recovery Summer and the Stimulus Effects on States.
*: The number of jobs created/saved conflicts with other government sources on Recovery.gov. This number was pulled from the latest figured offered on Recovery.gov