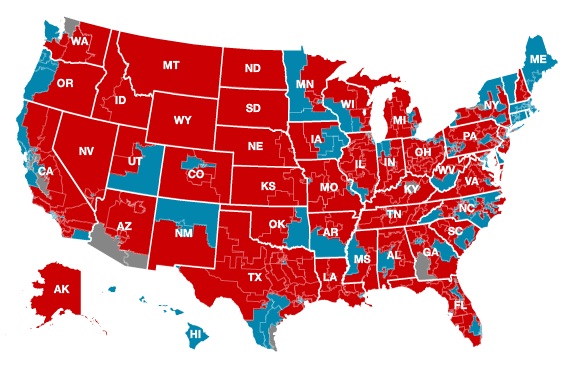 In the wake of the 2008 elections, pundits looked at a map without a single House Republican elected to federal office from Massachusetts north. The Great Lakes from New York and Pennsylvania, through Ohio, Indiana, Illinois up to Wisconsin and Minnesota voted for Obama's presidency giving him the electoral votes needed to win, now these same states formed the heart of the rejection of his agenda.
Republican Senate and House candidates transformed this region from a heavy blue on Tuesday night with Republicans picking up Senate seats in Pennsylvania, Illinois, Indiana and Wisconsin, while retaining a seat in Ohio. Twenty four of the seats that the Republicans picked up in the House of Representatives came from this swath of states, and perhaps even more significantly, Republicans won at least partial control of statehouses in these redistricting battlegrounds helping them to draw legislative maps that will solidify their gains in 2012 and beyond.
James Oberstar may be the symbol of this historic defeat. The Chairman of the House Transportation and Infrastructure Committee, Oberstar represented a Minnesota district that had not been represented by a Republican in the House since 1946, until this upcoming January. This defeat in an area that gave Al Franken the votes necessary to put him in the Senate can be laid at the feet of the Obama-Pelosi agenda.
While Republicans did not gain control of the U.S. Senate, the addition of Rand Paul from Kentucky, Mike Lee from Utah, Pat Toomey from Pennsylvania, Ken Johnson from Wisconsin and Florida's Marco Rubio signals a major shift toward fiscal conservatism and Constitution-based government. If Ken Buck in Colorado survives a recount challenge in Colorado, he would also help take the Republican Senate conference to a more staunch stand against increasing federal government encroachment on the lives of our citizens.
Just two years ago, constitutionalists and fiscal conservatives were having their obituaries written by pundits and the media across the nation. Just two years later, because of local tea parties, the face of Washington, D.C. has been changed, hopefully for a long time.
Rick Manning is the Director of Communications for Americans for Limited Government.