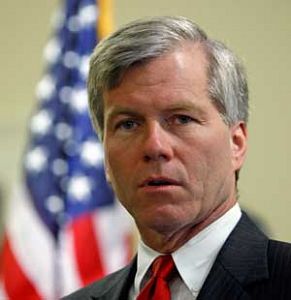 By Adam Bitely — In the past week, Barack Obama and Virginia Governor Bob McDonnell found something they can agree on–they both support banning Uranium mining.
As was reported earlier this week, "Last week, without much media attention, President Obama, this time via Secretary of the Interior, Ken Salazar, put the nix on certain uranium mining on federal lands in northern Arizona."
Following Obama's lead, Bob McDonnell took similar actions in earlier this week.
As Bob McDonnell explained his request for the Virginia General Assembly to not take any action on lifting a ban on Uranium mining, "I have asked them not to take any action this session to allow us time to further evaluate the law and science concerning the mining of uranium, so that the legislature can make well informed policy decisions in the future."
The legislature in Virginia knows nothing about Uranium mining, and thus, will never make as McDonnell stated, "informed policy decisions" based on their knowledge. They aren't in the Uranium mining industry and thus, have no incentive to attain a vast knowledge on Uranium mining. And taking action to acquire such knowledge would take time away from the thousands of other issues that they busy themselves with. And furthermore, as a 14 year resident of Virginia, I can assure you that the legislature has done little to acquire information as this is not a new issue.
If anyone honestly believes that Bob McDonnell and the 100 members of the House of Delegates and the 40 members of the State Senate as well as the various collection of government bureaucrats that would be involved in making the policy are going to intently focus on gathering as much knowledge as is humanly possible so that they understand Uranium mining, you have lost your mind. To put it simply, today or ten years from now, the vast majority of Virginia legislators will never have the adequate knowledge to make informed policy decisions regarding Uranium mining.
A simple explanation of what McDonnell did was punt on the issue. He kicked the can down the road so that some other governor will make the decision after he is gone.
You expect this type of action from Obama, but when a politician who routinely attacks the anti-business positions taken by the Obama administration AND attacks the Obama administration over its environmental policies you have to wonder if these guys believe the stuff they say.
When Bob McDonnell ran for Governor in 2009, his main campaign slogan was "Bob 4 Jobs." I guess we should have read the fine print on his campaign bumper-sticker that defined exactly which jobs he was for and which ones he was against.
Adam Bitely is the Editor-in-Chief of NetRightDaily.com. You can follow him on Twitter at @AdamBitely.