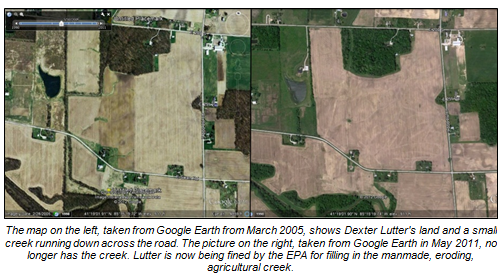 By Rebekah Rast — Dexter Lutter was expecting an award; instead he got a $20,000 fine.
He made environmental improvements on his land — his farm — by taking steps to clean up the water supply and better preserve the soil, but the Environmental Protection Agency (EPA) and U.S. Army Corps of Engineers fined him for his efforts.
"That's how out of touch I am," Lutter says.  "I feel like we should have won a medal for what we did, but the EPA tells us we were wrong."
A small manmade open ditch ran through Lutter's property in Noble County, Ind.  It was in need of repair, and Lutter got permission from his county to place tile drains for the collection of the agricultural discharge and cover over the eroding open ditch.  This not only saved county taxpayer dollars, but also cleaned up the water supply and prevented further soil erosion.
But that doesn't matter. According to Noble County and Lutter, they were told they violated the Clean Water Act.  This is despite the fact that Lutter said the ditch was manmade and used only for agricultural discharge and did not impede the flow of any main waterways — usual exemptions under the Clean Water Act.
It seems both the EPA and Army Corps are no longer content just monitoring activity in "navigable" waterways—as stated in the Clean Water Act, which has commonly lent itself to waterways where a vessel could in fact, navigate.  These agencies seem to think they need to adopt a different interpretation of the law, which gets them another step closer to controlling all water in the U.S.
This means many more cases similar to Lutter's will begin to surface.
Imagine if the EPA and Army Corps held the power to regulate any and all water they saw fit — water from a roadside ditch to a puddle in your yard?  It's a scary thought and greatly threatens farmers and landowners like Lutter, who now owes the EPA a hefty fine since it was his personal business that paid for much of the cleanup.
For Noble County, this Clean Water Act violation means a $75,000 fine and an additional $100,000 or more in mitigation costs to satisfy EPA and Army Corps of Engineers, says Scott Zeigler, Noble County Surveyor.
If manmade ditches, creeks and drainage system are in line to fall under the jurisdiction of the EPA and/or the Army Corps of Engineers, then any farmer with a backed up drainage system or broken tile drain might need a permit before they can even be fixed.  Likewise, any land you may own and would like to build on that had a standing puddle could potentially result in a rejected permit for disrupting a "wetland."
This is very similar to what happened to Mike and Chantell Sackett.
They bought land in Idaho and decided to build a home.  Once they filled the land with dirt and rocks in preparation, the EPA showed up asking for a permit claiming they had illegally filled protected wetlands and would contaminate a somewhat nearby lake.  However, between the lake and the Sackett's home were "several lots containing permanent structures."  Nonetheless, the Sackett's were ordered to stop all renovations.
The case made its way to the Supreme Court earlier this year, and a unanimous decision stated that the Sackett's deserved their day in court — and most importantly that EPA actions are accountable to the justice system.
The Sackett's can now take their case against the EPA to court — a journey not many are willing to take due to the high price of fighting against a large government bureaucracy.  Chief Justice John Roberts pointed out during the oral arguments of the case that because of potential fines few people are going to challenge the EPA's decisions:
"Because of the administrative compliance order, you're really never going to be put to the test, because most land owners aren't going to say, 'I'm going to risk the $37,000 a day.' All EPA has to do is make whatever finding it wants, and realize that in 99 percent of the cases, it's never going to be put to the test."
The Blaze asserts that the EPA issues nearly 3,000 administrative compliance orders a year that call on alleged violators of environmental laws to stop what they're doing and repair the harm they've caused.
With a hefty fine like $37,000 a day as Chief Justice Roberts used as an example, or even Lutter's $20,000 fine, it is easy to see why people are scared away from pushing back against the heavy-handed EPA.
As Lutter and his attorney are attempting to negotiate with the EPA in hope of lowering the fine, elected officials in Noble County are also wondering how to pay their fine of $75,000, not to mention the possibly more than $100,000 in mitigation costs to satisfy the Army Corps.
"We filled in a ditch that was about 2 to 3 feet wide and about 10 to 12 inches deep," says Noble County Surveyor Scott Zeigler.  "We did something to save taxpayers money and now we have to pay out almost $200,000 in penalties."
Is this the penalty for folks who clean up the environment and are good stewards of their land?
The mitigation project for Noble County includes planting many new trees and implementing new practices that will detain water, resulting in water moving slower from farms.  So far this hasn't been a welcomed project.
If the EPA and Army Corps are successful in their bid to reinterpret the Clean Water Act, these agencies will be responsible for every drop of water in the U.S. — even more so than they are now.
"This paints a picture of the insanity of the EPA," says Bill Wilson, president of Americans for Limited Government (ALG).  "The people making these decisions are so radical that even attempting to reform the EPA will do no good — the agency needs a complete overhaul.  The job of the next administration will be to restructure and re-staff this rogue government agency."
For now, Lutter is hoping he didn't just lose his business over successfully cleaning up the water supply and creating a healthier environment for years to come.
Rebekah Rast is a contributing editor to Americans for Limited Government (ALG) and NetRightDaily.com.  You can follow her on twitter at @RebekahRast.