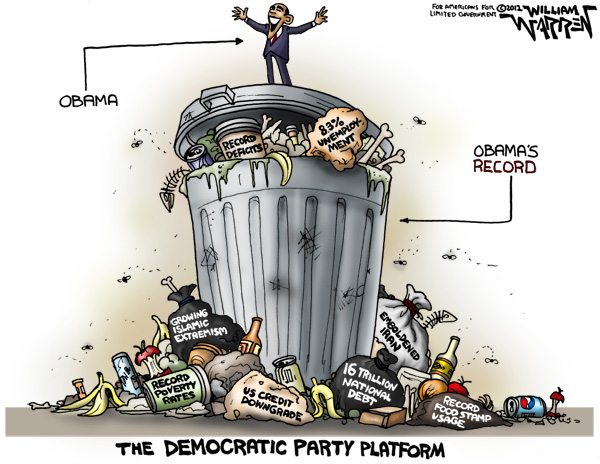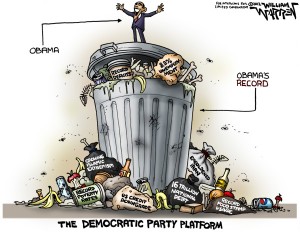 By Bill Wilson — The economy is slowing down — again.
Second quarter Gross Domestic Product (GDP) has been revised downward to 1.3 percent growth by the Bureau of Economic Analysis (BEA), coming atop an initial estimate of 1.5 percent and a rosier revision to 1.7 percent in August.
This is a trend. First quarter GDP was similarly revised downward to 2 percent growth after an initial 2.2 percent was reported.
All of which is bad news for Barack Obama.
To go from 2 percent growth to 1.3 percent now this year marks a significant slump in output, putting the economy at the water's edge of another recession.
This was not supposed to happen — not after trillions of dollars of fiscal and monetary "stimulus". Government spending and borrowing were supposed to get things moving again.
Instead, for every dollar Obama has added to the debt since he took office, he only got 27 cents of growth in return.
Now Obama must face an electorate in November deeply dissatisfied with the current state of the economy. A recent Rasmussen Reports poll of likely voters found only 35 percent think Obama is doing a good or excellent job handling economic issues, with 44 percent rating him poorly.
The latest data will do nothing to improve that rating. With unemployment still unacceptably high as the labor force continues to shrink, one struggles to find areas of improvement to credit Obama with.
Making matters worse for everyone, the economy may already be contracting again. GDP numbers through the first half of 2008 failed to show that we were in a recession, when in reality the downturn had begun at the end of 2007.
In fact, in 13 of 18 quarters from 2008 to present, initial GDP estimates by the Bureau have been revised downward — a shocking 72 percent likelihood that things are even worse than first reported.
All of which leaves one to wonder whether Mitt Romney can take advantage of the weak economy on the campaign trail. No president has been reelected with such poor numbers in almost 80 years.
But Obama may prove to be the outlier. If so, a great mystery will be why voters stuck with him even though the situation has not improved.
One reason may be that Romney has failed to show how things would be much different if he was elected. His acceptance speech at the Republican convention was notably short on details of how the candidate would fix the economy.
To win, Romney must draw sharp contrasts with his opponent and stop playing to K Street special interests making fortunes off of the status quo.
But he is running out of time with voter attitudes setting in.
This is the Republican establishment's moment to prove it is still viable. If they cannot win in this environment with the economic situation so dire, the American people may well begin to consider alternatives to the GOP.
Bill Wilson is the President of Americans for Limited Government. You can follow Bill on Twitter at @BillWilsonALG.