MEMO FOR THE MOVEMENT
AMERICAN TAXPAYERS MONEY SENT TO FOREIGN COUNTRIES THAT OPPOSE AMERICAN INTERESTS AIDS NO ONE!
RE: How much should American taxpayers send to foreign lands where U.S. diplomats are assaulted, embassies assailed, and where political and economic freedoms hardly exist?
ISSUE-IN-BRIEF: 
$53,000,000,000 – That's how much the U.S. spends on foreign assistance (economic & military) each year—some to nations that cannot even protect our embassies. It is scandalous that billions of these dollars are spent in countries whose governments are hostile to Americans and/or American interests.
U.S. foreign aid is all too often a vehicle for global wealth redistribution. Despite the pretense to ameliorating third-world poverty, the hard truth is that American foreign aid, much like American fighter jets and American aircraft carriers, is designed to support the foreign policy of the United States through the fostering of US strategic interests—not a welfare program.
The question is whether the present administration of that aid continues to serve American interests. The anti-American uprisings unfolding across the world compel the U.S. to reevaluate the use of foreign aid and, if necessary, to restrict the flow of funds in cases where aid does not serve our interests. Any decision to modify U.S. aid to Libya or Egypt must be judged, in part, on the basis of whom such a move will likely help bring to—and keep in–power.
In pre-Muslim Brotherhood Egypt, $1.6 billion a year kept Hosni Mubarak from marching across the Sinai to attack Israel. How much money will it take to pacify the new Egyptian regime? Consider: It took Egypt's Muslim Brotherhood president Mohamed Morsi more than 48 hours to condemn the breach of the US embassy—and now the Obama administration just informed Congress it wants to give an additional $450 million in aid to Egypt!
Pakistan received approximately $20.7 billion in U.S. aid from 2002 to 2010. All the while elements of the Pakistani government quartered and concealed Osama bin Laden. Moreover, the arrest of the whistle-blower who led the U.S. to the Al-Qaeda leader's hideout is a troubling sign of the regime's sympathies.
Libya has taken $200 million in U.S. foreign assistance since the start of the 2011 uprisings. The assault on U.S. diplomats in Libya, while not necessarily an indictment of the nascent Libyan government, is nonetheless good cause to reevaluate our aid to that nation.
ACTION: Conservatives should demand extra accountability from lawmakers for taxpayer funds that are sent to foreign lands where our embassies are subject to violence, American diplomats are assaulted, and individual freedom is opposed by the regime in power.
Here is some more information on foreign aid:
http://www.breitbart.com/Big-Peace/2012/10/03/The-Scandal-That-Is-Foreign-Aid
http://www.nytimes.com/2012/09/29/world/middleeast/white-house-move-to-give-egypt-450-million-in-aid-meets-resistance.html
http://www.huffingtonpost.com/2012/09/28/us-house-kay-granger-blocks-egypt-aid_n_1924303.html
CBS 60 Minutes interview: Lara Logan talks to the top U.S. commander in Afghanistan, Gen. John Allen eleven years after 9/11.
September 30, 2012
"Insider attacks" kill U.S. troops in Afghanistan
Lara Logan: Right now there's no peace process at all with the Taliban and Pakistan is the problem. Enemy fighters from the Afghan battlefield have enjoyed freedom and sanctuary on Pakistani soil since the beginning of the war.
Lara Logan: Ultimately, it's not going to matter what you do if you do not address the critical element of the safe havens that the enemy has inside Pakistan, across the border, in many ways, out of your reach.
General Allen: Well, we're doing a great deal right now. The relationship that we have between ISAF forces and the Pakistani military has improved dramatically–
Lara Logan: But it doesn't stop Pakistanis helping our enemies kill U.S. soldiers.
General Allen: Well, that's not going to stop immediately.
Lara Logan: Your deadliest enemies on the Afghan battlefield have complete freedom of movement inside Pakistan with the blessing of the Pakistanis. And every commander that's sat in your shoes has had to try and build a relationship and go through the same motions time and time again and the effect on the battlefield remains exactly the same. American soldiers continue to die because of the support Pakistan gives to America's enemies.
General Allen: You've just stated the truth.
Lara Logan: That's got to make you mad.
General Allen: Yes, it does. Yes, it does.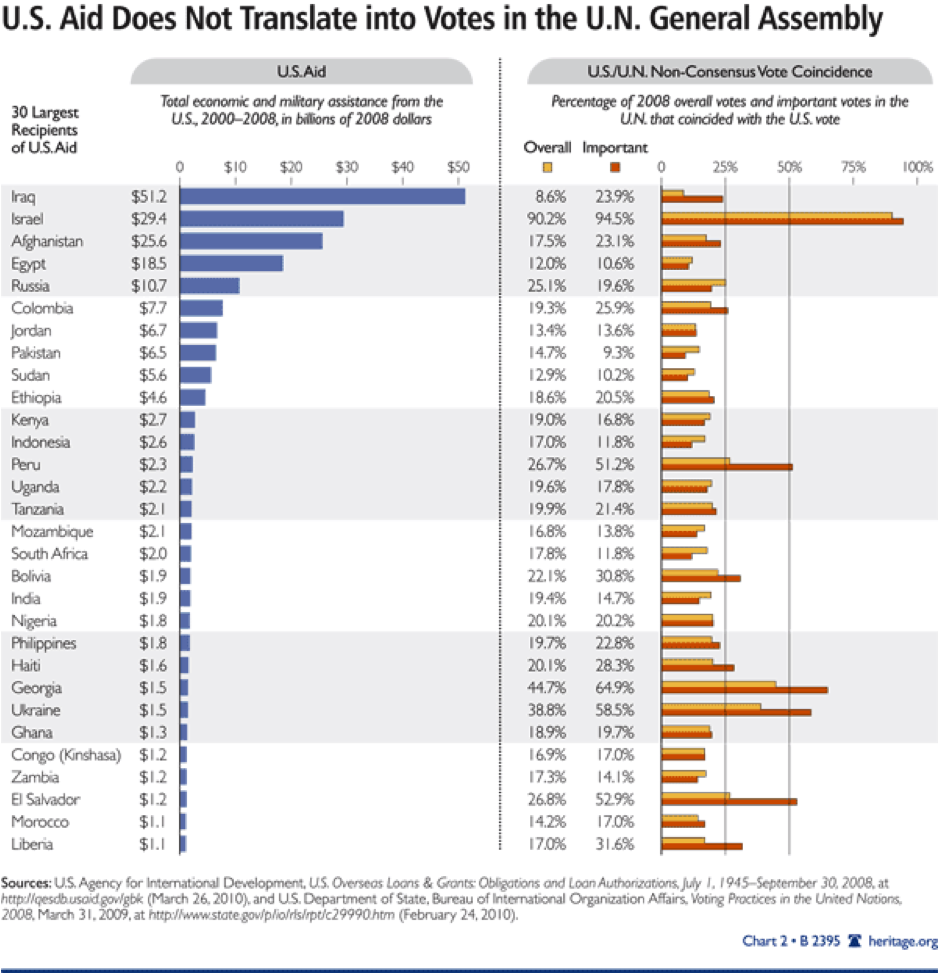 http://www.heritage.org/research/reports/2011/08/the-us-should-link-foreign-aid-and-un-general-assembly-voting
http://www.heritage.org/research/reports/2012/09/us-aid-to-egypt-and-libya-tight-strings-needed
CONSERVATIVE ACTION PROJECT
    The Conservative Action Project, chaired by former Attorney General Edwin Meese, is designed to facilitate       conservative leaders working together on behalf of common goals.  Participants include the CEO's of over 100 organizations representing all major elements of the conservative movement—economic, social and national security.
~ ~ ~
Herman Pirchner, President, American Foreign Policy Council
Elaine Donnelly, President, Center for Military Readiness
William Wilson, President, Americans for Limited Government
Lewis Uhler, President, National Taxpayers Limitation Committee
Alfred Regnery, President, The Paul Revere Project
Frank J. Gaffney, President, Center for Security Policy
C. Preston Noell, President, Tradition, Family, Property
Gary Bauer, President, American Values
Ron Robinson, President, Young America's Foundation
Tony Perkins, President, Family Research Council
Kay R. Daly, President, Coalition for a Fair Judiciary
Duane Parde, President, National Taxpayers Union
Andrea Lafferty, President, Traditional Values Coalition
Brent Bozell, President, ForAmerica
Colin Hanna, President, Let Freedom Ring
James Miller III, former Reagan Budget Director
Ken deGraffenreid, former Deputy Under Secretary of Defense for Policy
Tom Winter, Editor-in-Chief Emeritus, Human Events
Edwin Meese III, former Attorney General
Peter Thomas, Chairman, The Conservative Caucus
James Martin, Chairman, 60 Plus
Rev. Lou Sheldon, Chairman, Traditional Values Coalition
Richard Viguerie, Chairman, ConservativeHQ.com
J. Kenneth Blackwell, Chairman, Coalition for a Conservative Majority
Bill Pascoe, Senior Vice President, Citizens for the Republic
Susan Carleson, Chairman & CEO, American Civil Rights Union
(All organizations listed for Identification purposes only)