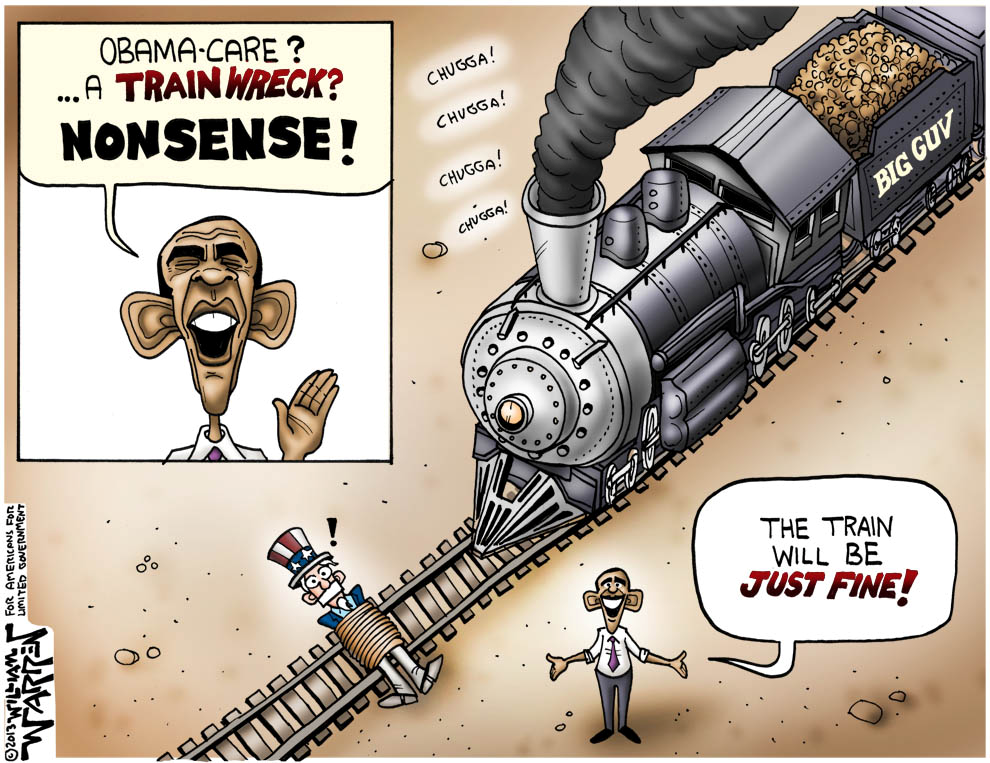 It is ironic that Senate Democrats who just two weeks ago were dead-set opposed to delaying any aspect of Obamacare are now suddenly jumping on board.
Sen. Joe Manchin (D-W.Va.), who on Sept. 30 voted to table House-offered legislation that would have instituted one-year delay of the health care law's individual mandate, is suddenly all about it. He's working on a bill that would do just that.
Throw in Sen. Mark Begich (D-Alaska), Sen. Mark Pryor (D-Ark), Sen. Mary Landrieu (D-La.), Sen. Kay Hagan (D-N.C.), and Jeanne Shaheen (D-N.H.), all of whom voted against the individual mandate delay, too.
Said Begich, "Given the recent website issues, I also support extending open enrollment season. I want to work with the administration to ensure that individuals are not unfairly penalized if technical issues with the website continue."
The trouble is that merely delaying the individual mandate still leaves many of the most harmful parts of Obamacare in place. And it may create quite a few problems of its own.
Namely, that under the existing regime, according to the Congressional Budget Office, to prevent everyone's premiums from skyrocketing, the government needs 7 million people to be actively enrolled in the exchanges in 2014 alone. 13 million by 2015, and 22 million by 2016.
That is because minimal coverage requirements have been increased across the board, if millions of new consumers do not purchase insurance to increase the pool, the premiums for everyone else are going to go to the moon.
This will happen either way if Obamacare enrollment proves to be a big failure.
The immediate effect will be huge price hikes, but over just a few years it could hurt business and ultimately put the entire insurance industry at risk. The insurance lobby knew this at the outset, which is why it pushed heavily for the individual mandate in the first place. It would have never endorsed Obamacare if it didn't think that it would feed the bottom line.
The thing is, it is highly dubious even if Healthcare.gov worked they'd ever reach its lofty enrollment goals, particularly if individuals calculate it would be cheaper to pay the fine than to get insurance.
A 2006 study by Stan Dorn and Genevieve M. Kenney found that "Sixty-two percent of uninsured children qualify for but are not enrolled in Medicaid or the State Children's Health Insurance Program (SCHIP). Similarly, two-thirds of uninsured, poor parents qualify for Medicaid but are not enrolled."
What made anyone think that Obamacare would be any more successful at getting insurance for the uninsured than Medicaid has been? The individual mandate was supposed to be that incentive.
The problem is that as many as 43 percent of the nation's uninsured are completely unaware that come January 2014, they must purchase or carry health insurance or else pay a fine, according to a June Gallup survey.
If they really don't sign up or if the individual mandate is delayed for a year, the insurance pool won't expand as expected, and everyone's insurance premiums will necessarily skyrocket.
In other words, if the Democrats' generational goal of achieving "universal" health coverage is not achieved, everyone will be punished. Liking Obamacare yet?
The only solution at a minimum therefore is a full year delay not only of the individual mandate, but every other mandate including increasing minimum coverage requirements by insurers. And even then a legislative bridge will be needed to mitigate the damage.
It appears that the alternative, whether the individual mandate is delayed or not, will in fact be a train wreck.
Robert Romano is the senior editor of Americans for Limited Government.