At the end of the week, the House Republican conference will select a new Majority Leader to replace the ousted Eric Cantor. To date, two Representatives have thrown their hats into the ring, vouching for the second highest position in the House.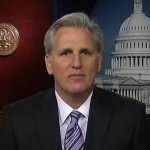 The first was Majority Whip Kevin McCarthy of California. Well-liked and considered a popular member of the current House Republicans leadership team, Rep. McCarthy is favored by many to win the election for House Majority Leader in most party due to his close familiarity with every Republican who will cast a ballot at the end of the week. The criticism of him is that he is closely tied to the "establishment" Republican decision making of House Republican leadership due to his time in leadership as Whip and his close friendship with Rep. John Boehner .You can learn more about Rep. McCarthy here from a recent Washington Post write-up on his candidacy.
Generally considered the underdog in the race, and a relative newcomer to Congress, Idaho Rep. Raúl Labrador is a well-known conservative member of the Republican conference looking to signify change and a new conservative agenda in House leadership with a quick ascendance to House Majority Leader's office. Criticism of Labrador's candidacy stems from his relative lack of Congressional experience and leadership appointments to date. You can learn more about Labrador and the race for House Majority Leader in this editorial from the Washington Examiner.
Rick Manning, vice president of public policy and communications for Americans for Limited Government, also wrote an excellent piece for The Hill analyzing the race overall, and the Conservatives' place within it.
Now that you know the two sides of the internal campaign, who do you hope to see elected as the next House Majority Leader? If you have a Republican Representative, who will he or she be voting for at the end of the week?