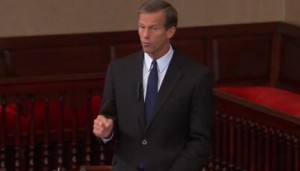 By Nathan Mehrens
Those who believed President Obama's promise that "transparency and the rule of law will be the touchstones of this presidency" should have been almost immediately dissuaded of this notion early in his administration.
Early on, Obama, at the behest of his labor union bosses, rolled back several hard-fought reforms that increased the information available to union members on how their unions spend members' dues money.
Obama did this even though the disclosure is mandated by the Labor-Management Reporting and Disclosure Act of 1959. Under this law, the secretary of labor is given the responsibility to promulgate regulations that provide for disclosure of unions' financial activities.
During most of the years of this law's existence, however, only summary financial data was required to be reported. That changed when the now-rescinded regulations were promulgated by the Labor Department during the second Bush administration.
While some of these reforms have survived, massive holes in union financial transparency were created by Obama's actions early in his administration.
Earlier this week, Sen. John Thune, R-S.D., introduced the Union Transparency and Accountability Act, which would reverse Obama's rollbacks in transparency and add additional protections for union employees who uncover wrongdoing.
If enacted, Thune's bill would restore full transparency requirements on items such as union executives' compensation packages, transparency that while expressly required by the LMRDA, was eliminated by the Obama administration.
Technical changes that make embezzlements harder to hide would also be reinstated by Thune's bill.