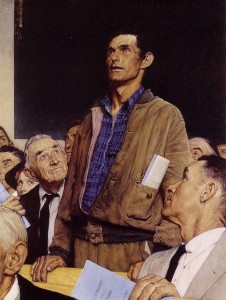 By Rick Manning
Harry Reid has revealed his political party's number one priority heading into the election, and it is stunning.
Reid has promised that he will waste precious Senate time when the body comes back in September forcing a vote on a Constitutional Amendment that eviscerates the First Amendment.
This is not just hyperbole.  Reid will be actively encouraging the U.S. Senate to pass a change to the fundamental right to free speech with the encouragement of all but a small handful of extremely vulnerable Democrat Senators who have co-sponsored it.
Harry Reid knows that he does not have the votes to change the First Amendment, but he also knows that by having the vote, he will be driving one of his party's favorite themes — an attack on those who spend money on political advocacy.
It has gotten so bad that Democrats on the Senate Judiciary Committee actually voted against a substitute bill that merely included the exact wording of the current, more than two hundred year old, constitutional free speech protection.
With all the massive problems facing America and the world, this is what Harry Reid deems to be his most pressing issue.
For those who missed it, the Senate has not passed appropriations bills again this year, meaning we will all be subjected to more Democrat orchestrated government shutdown brinksmanship at the end of the month.
Reid, as usual, has also failed to pass any of multiple jobs or economic recovery bills sent to him by the House of Representatives.  In fact, Reid's overall leadership has been so bad, that Alaska Democrat Senator Mark Begich recently complained that in his entire six years in office, he has not had a single amendment even considered on the Senate floor, let alone passed into law.
Now, even as Reid plans to waste time voting on and failing to pass this attack on our Constitution, official Washington, D.C. is preparing for Congress to meet again after the elections in a lame duck session.
A time when retired and fired politicians no longer have to worry about voters and can set themselves up for life after elected office by doing favors for potential future employers before they head for the exits.
Here is my solution.
House and Senate Republicans need to call times up on the maleficent Reid.  In September, they need to get the government funded through February in the hopes that the Nevada septuagenarian is no longer Majority Leader, and more reasonable minds can set the fiscal course for the rest of the year.
House and Senate Republicans need to pass short-term extensions on laws that expire like the Terrorism Risk Insurance Act, allowing a new Congress to make the difficult decisions needed avoiding the stench of bald-faced partisanship that overwhelms the current Majority Leader office.
Finally, they need to tell Reid that since he insists on wasting time trying to destroy our First Amendment freedoms, there will be no lame duck session at all, hopefully putting an end to Reid's disastrous eight years reining over the Senate.
Once the 113th Congress leaves in early October, so individual Representatives and Senators can make their case to the electorate for their jobs, they should not come back, except perhaps to gavel in a pro forma session.  America has had enough of this Congress, and nothing would be worse than to have a bunch of rejected and burnt out members setting our nation's policies.
Ending Harry Reid's disastrous run as Majority Leader as soon as possible by refusing to give him one last bite at the legislative apple will allow America to breathe a collective sigh of relief, and look forward to new leadership to tackle the problems that have built up while Harry was busy trying to change the Constitution.
It is time for House Republicans to just say no to a lame duck session of a Congress that no one wants to return.
Rick Manning is the vice president of communications and public policy for Americans for Limited Government.