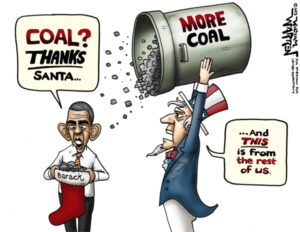 By Robert Romano
Even while hundreds of coal-fired electric power plants are being retired or converted to natural gas on account of new Environmental Protection Agency (EPA) regulations — 361 units so far according to Americaspower.org over the coming years — an odd thing happened this winter.
Coal electricity production increased dramatically, by 8.5 percent, to 543.4 billion kilowatthours (kWh) for the months of January through April compared to the same period in 2013. The culprit? The particularly cold and harsh winter.
Overall, end use of all electricity from all providers was up 3.6 percent to 1.265 trillion kWh for January through April, and overall generation was up 3.98 percent to 1.278 kWh. Increased coal electricity generation accounted for more than 87 percent of the increase.
Natural gas electricity generation, on the other hand, took a big hit the first four months of the year, down 3.2 percent to 289.1 billion kWh. This followed delivery problems for gas this past winter in the northeast, leading to communities with those types of plants to lean on coal-generated grid power from Midwestern states.
This past winter, according to bv.com, in New York and New England, "insufficient pipeline capacity to deliver growing peak demand gas needed for gas-fired electric generators, as well as residential and commercial consumers" led to supply shortages in the northeast and big price jumps.
That's not good, since natural gas is supposed to be what replaces coal on the grid, yet it does not appear to be capable of fulfilling peak demand.
Should the same thing happen over the coming years, the grid will become increasingly taxed as the remaining coal-powered plants attempt to fill in the gap, only with less capacity to do so.
Consider that coal as a percent of the grid had dropped from 51 percent in 2005 to 38.5 percent market share in 2012. But because of the cold surge, that figure jumped back up to over 42 percent the first four months of 2014.
Yet, that trend might not last much longer as more coal plants are brought off-line by the EPA, resulting in a 16 percent cut to coal electricity capacity.
This is something even the New York Times acknowledged in a March 10 article by Matthew L. Wald. "Scores of old coal-fired power plants in the Midwest will close in the next year or so because of federal pollution rules intended to cut emissions of mercury, chlorine and other toxic pollutants. Still others could close because of a separate rule to prevent the damage that cooling water systems inflict on marine life," writes Wald.
The Times warns ominously, "For utilities, another frigid winter like this one could lead to a squeeze in supply, making it harder — and much more expensive — to supply power to consumers during periods of peak demand."
So, we're cutting coal electricity's supply via the regulatory process, precisely at a time when demand appears to be increasing.
In short, increased coal electricity production was needed during this harsh winter to meet increased electricity demand and delayed natural gas supplies. So, why are we shutting down 16 percent of coal electricity capacity with punitive EPA regulations?
If anything, it appears we need coal now more than ever. Is anyone at the EPA or White House listening?
Robert Romano is the senior editor of Americans for Limited Government.