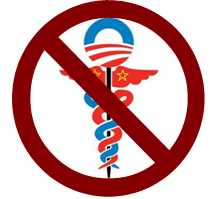 By Tom Toth and Rick Manning
250,000 Virginians will see their health insurance canceled before the year's end due to Obamacare fallout.
Recent testimony before the Virginia House of Delegates' Health Insurance Reform Commission revealed this reality that is going to face a quarter million Virginians. If this same scenario is being played out around the country, Democrats who supported the President's health care law will find themselves faced with defending their votes at a time when they'd rather be talking about anything else.
While the angst and anger that results in Virginia is unlikely to unseat Senator Mark Warner, the same cannot be said for the millions nationwide who might receive cancellation notices.
These health insurance cancelations have been an ongoing problem for the administration's party since they began in 2013 — which since have resulted in the cancellation of at least 4.7 private health insurance policies. Belabored by their repetition of Obama's full Pinocchio, "you can keep your health insurance if you like it" promise, the last thing that Democrats need is Obamacare induced cancellation notices in the mailboxes of the very voters they hope will forget their goosestep-like health care march in 2010.
Many vulnerable Democrats, already hurt by their association with an Obama administration at its lowest popularity point to date, will now be forced to once again answer for their support of Obamacare.
On top of those who continue to lose insurance, suddenly vulnerable Minnesota Senator Al Franken's election chances are likely to be rocked by the announcement that the insurer which underwrote 60 percent of all policies obtained through the state's exchange network is leaving the state.
The insurer, PreferredOne, is quoted on the KSTP.com website as saying selling plans in the state is "not administratively and financially sustainable going forward."
PreferredOne was the lowest cost alternative on the Minnesota Obamacare exchange, and after doing business in the brave new health care world that Al Franken created through his vote, they are declaring "no mas" and thousands of Minnesotan's will be scrambling for alternative coverage options.
Between Obamacare regulations requiring that health insurance plans be discontinued that their customers liked and insurers fleeing the system due to its bureaucracy that makes it a money loser, it is clear that those who liked the law are going to face a long fall being forced to defend it.
Explaining why people are losing their health coverage because of the law you created is hardly the closing argument any incumbent wants to make. For many Democrats in this very close election cycle, it may just be the straw that breaks the camels back.
Tom Toth is the digital content director and a contributing editor for Americans for Limited Government. Rick Manning is the vice president of public policy and communications for Americans for Limited Government.