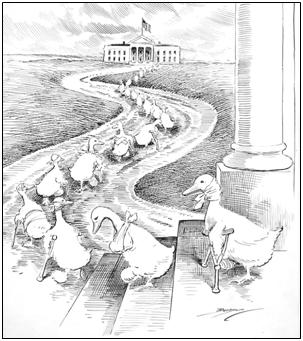 By Robert Romano
The House of Representatives led by Republicans is prepared to pass a continuing resolution for fiscal year 2014 that will fund the government through December 11 of this year, after the November elections.
So, after the American people head to the polls, many of the same representatives and senators they just voted to out of office will then proceed back to Washington, D.C. to create a budget at the last minute before their legislative terms expire.
This, despite the fact that the Democrat-led Senate has not brought a single appropriations bill to the floor for a vote all year long. This contrasts with the House, which for its part has passed 7 spending bills this year, including 215 spending amendments.
"Senate Democrats have lost their right to have any say at all on next year's spending," Americans for Limited Government President Nathan Mehrens stated. "They want to push the spending bill until after the November elections, and before the holidays when nobody's looking. Why would the House let them do that?"
Indeed, why would House Republicans want to initiate a lame duck budget process? Polling shows the GOP poised to reclaim the Senate this year. Pushing the continuing resolution out to 2015 would allow them the opportunity for reinforcements in the coming budget fight against Obama.
Mehrens called for any continuing resolution to go all the way through February or March, after the American people's choice of representatives in the November elections have been seated.
The timing may also jeopardize opportunities for Republicans to defund things like the Internet giveaway, the Department of Housing and Urban Development (HUD) forcing of municipalities to build low-income housing smack in the middle of suburban neighborhoods, and detrimental Environmental Protection Agency (EPA) regulations on coal plants.
These happen to be time-sensitive. The HUD regulation actually goes into effect this October. Transferring control over the Internet's domain name system and assigned numbers functions from the Commerce Department could be done as soon as September 30, 2015 when the current contract expires. The EPA coal regs will be in effect by June 2015. And there are many more rules taking effect just as heinous and destructive to the American people.
Yet, should funding be put into place for these departments and agencies for the full fiscal year, or if Congress is allowed to work out the budget after the elections but before the new Congress is sworn in, these new rules may be impossible to stop from taking effect.
So why do it this way?
Instead, the December continuing resolution will just be a grab bag for special interests. But, then again, maybe that's the idea.
Robert Romano is the senior editor of Americans for Limited Government.