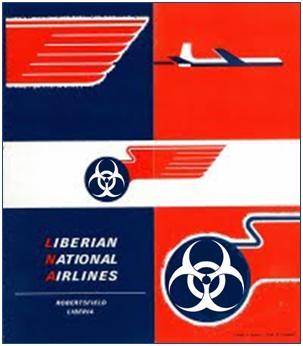 By Robert Romano
"It is increasingly clear that the health of other nations has a direct impact on health in the United States — infectious diseases do not recognize borders, and a disease outbreak is just a plane trip away."
That was Centers for Disease Control and Prevention (CDC) director Tom Frieden writing of the Ebola outbreak in a White House blog on September 26.
Little did Frieden know that Thomas Duncan had already boarded a plane bound first from Liberia to Brussels, then to Dulles Airport in northern Virginia, and then arrived in Dallas, Texas on September 20.
But Frieden was right: "outbreak is just a plane trip away."
Since that time, it turns out Duncan, now deceased, has infected two health care professionals who had treated him at Texas Health Presbyterian Hospital, one of whom unwittingly took a round trip to Cleveland, Ohio and back to Dallas while exhibiting symptoms.
Ebola is spreading globally, and the common link is air travel.
In the current crisis, so far, the virus has been spread by patients who traveled by air from affected hot zones, and then infected medical personnel who treat the patients upon arrival.
The same thing happened in Spain, where two missionaries of the Brothers Hospitallers of St. John of God were evacuated to Hospital Carlos III in Madrid. Now a nurse who had cared for the patients there has contracted the virus.
The same thing happened in Nigeria. Patrick Sawyer traveled from Liberia to Lagos, Nigeria, with the disease. One of the nurses who treated Sawyer, who has since died, contracted the disease, along with a doctor, who has also died. So far, eight have died there.
Yet, Frieden and the Obama administration continue to defend the decision not to impose any non-essential travel bans to and from hot zone countries Liberia, Sierra Leone, and Guinea, where thousands of cases have been reported, and thousands more are expected weekly as the disease runs out of control.
Testifying to a House subcommittee on October 16, Frieden told lawmakers, "If we try to eliminate travel, the possibility that some will travel over land, will come from other places… will mean that we won't be able to do multiple things."
Health institutions complain that personnel will not be able to get on the ground in these countries if commercial travel bans are imposed.
Certainly, getting the proper people on the ground in the hot zones is critical to stopping the spread of the disease. But so is preventing infected people from leaving.
Right now, the only travel restrictions being enforced at both ports of exit and entry is to attempt to spot symptoms. The problem is it can take more than a week for the virus to incubate.
Duncan did not start showing symptoms until days after he arrived in Dallas.
At the current rate of infection, surely there will be more individuals who wish to flee Liberia, Sierra Leone, and Guinea. The more who become infected on the ground there, the more likely the virus is to spread globally.
So, the hot zone countries need to temporarily be locked down. Only essential personnel should be let in or out until either the outbreak is stamped out or better screening can be put in place that does not have border officials with no backgrounds in medicine attempting to diagnose highly infectious diseases by "spotting" symptoms.
Officials keep saying the way to stop Ebola is to stop it in West Africa. That is correct. And it needs to be kept there, too.
Robert Romano is the senior editor of Americans for Limited Government.