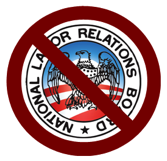 By Richard Manning
A strange thing happened upon examining an obscure report issued by the federal government's Office of Personnel Management on how much money and personnel hours are spent conducting labor union business by taxpayer funded employees.
It was discovered that the National Labor Relations Board, an agency whose reason for being is to ensure that the nation's labor laws are properly enforced, had four times as many hours spent on union representatives than the average federal agency.
Nathan Mehrens, president of Americans for Limited Government and the primary advocate nationwide for ending taxpayer spending for public employee union activities, remarked, "Federal government labor union employees at the National Labor Relations Board (NLRB) apparently need the most protection by taxpayer funded union stewards of any other Agency.  As the Office of Personnel Management revealed late last week, in 2012, the National Labor Relations Board's employees utilized more union representation per unit employee than any other Agency and it wasn't even close."
The irony that the labor union dominated "independent" agency has the need for more government paid union representation than any other government entity cannot be lost.
Is the NLRB the most anti-labor agency in the Obama administration?  Based upon the 2012 OPM report, it seems as though it just might be.
But, just as surprisingly, Obama's Labor Department has been a source of constant union complaints throughout the administration.
In February of 2014, Secretary Thomas Perez faced union complaints of racial discrimination based upon the disparity of promotions between different racial groups.  The Daily Caller quoted the complaint by the American Federation of Government Employees Local 12, AFL-CIO as stating, "The statistics from our own Civil Rights Center reflect the discrimination in hiring, promotions, and removals at the Department of Labor.  What is more frustrating than these statistics are the other statistics that show that when EEO claims are filed, discrimination is rarely, if ever, found to have occurred."
The complaint continues using the same kind of outcome based racial disparate impact argument that Perez championed during his tenure as the head of the Justice Department's Civil Rights Division claiming, "There were a total of 22 removals from DOL, of which 12 (54.5 percent) were women and 10 (45.5 percent) were minorities.   The percentages of removal actions taken against black males, black females and Hispanic females were higher than their respective representation in the DOL workforce.   Black males accounted for 13.64 percent (3 individuals) of the removals, black females accounted for 22.7 percent (5 individuals) of the removals, and Hispanic females accounted for 9.09 percent (2 individuals) of the removals, compared to their DOL workforce representation rates of 6.54 percent, 15.99 percent and 4.4 percent, respectively."
While there is no evidence that discrimination existed in any of the cases cited, using the Perez theory of utilizing outcomes to declare that racial discrimination exists without any other proof, it is fair to ask if the Secretary enjoys being hoisted on his own petard.
One thing that's clear from the OPM report is that the Labor Department significantly cut its spending on union representation for its employees in 2012, during Perez predecessor Hilda Solis' final year as Secretary.  Since many of the complaints presented to Perez stem from the first four years of Obama's presidency, it is certainly within reason to wonder if the complaints were precipitated by Obama administration targeting of trouble maker union reps within the Labor Department.
While the entire notion of taxpayers spending hundreds of million dollars a year for union representatives that Freedom of Information Act requests filed by Americans for Limited Government have revealed often make well in excess of $100,000 a year is repugnant, it is equally repugnant if the Labor Department has targeted these reps for elimination due to their holding them to the letter of the law.
So the question remains, is the National Labor Relations Board the most anti-public employee rights agency in the government, or is it the Labor Department which is at war with its non-management career employees?
One thing is clear, the Obama administration is hardly the management team that the public employee unions expected when they went all in supporting their election.  I guess having a group in charge which doesn't believe the law pertains to them is fine when they are making changes without Congressional action as affects everyone else. But it turns out Obama cannot be trusted to follow the laws relating to government employees either.
Something these public employees might want to remember during future elections.
The author is the vice president of public policy and communications for Americans for Limited Government.