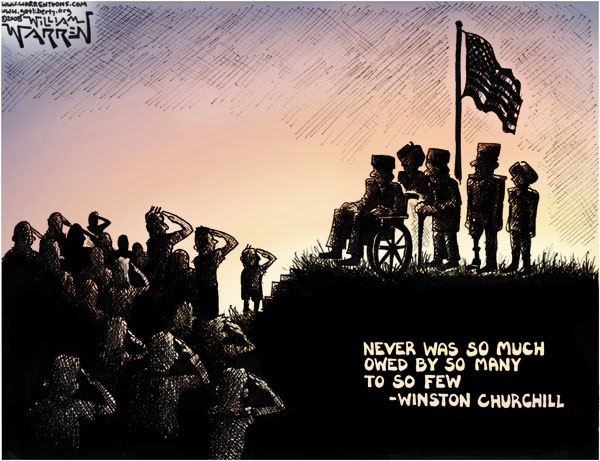 Veterans Day is a day to thank those who served honorably in our military services.  Marked by parades and ceremonies featuring local veteran services organizations local affiliates it should be a time of celebrating our nation's freedoms and those who wore the uniform to protect them.
Unfortunately in just one year, the shocking reality of a failed Veteran's Administration health care system has been splayed before our eyes. Appointments being denied to the sickest vets until they died without even the most basic care, case load lies and cover-ups have laid bare the reality of government provided health care.
On the positive side, work being done on prosthetics and physical therapy is allowing thousands of wounded veterans to recover their mobility and limb function in ways that would have been unimaginable just a decade ago.
At the end of the Bush Administration, as part of a Labor Department team representing the Office of Disability Policy, I had the opportunity to visit the Balboa Naval Hospital which was doing state of the art work in helping veterans who had lost limbs recover physically and emotionally.  These dedicated doctors, nurses and Administrators were truly getting our nation's responsibility to returning veterans right standing in contrast to the VA health system horrors.
Similarly, many employers are stepping forward to hire returning veterans including WalMart which has already hired 100,000 veterans in the past five years, and promises any Honorably Discharged veteran who wants to work for them a job within the first twelve months after active service.
Home Depot has partnered with the Labor Department since 2004 in actively recruiting veterans having hired more than 60,000 of these heroes in the past decade.    The company has even created a special employment emphasis on hiring spouses of those who are serving, recognizing the difficulties that the transient life style of a military spouse plays on the ability to build a career.
In addition to these two companies and hundreds like them, virtually every defense contractor actively recruits out of the military wanting to ensure that those were the end users of the weapons systems they produce are on staff to help meet the needs of the military in the next twenty years.
For these and every private employer Veterans Day is not a one day a year celebration, but an every-day commitment to providing those who served their own opportunity to achieve the American dream.
Private employers making a free choice to tap the talents of military training to make their company's better able to meet the needs of their customers.  While some may view this as a thank you to veterans, the reality is that these companies hire those who honorably served because it is in their corporate self-interest to have employees who are dependable, work hard and have received training in some of the harshest environments in the world.
And that is the way America should say thank you to veterans.  Help them recover from any wounds or ailments resulting from their service and keep a strong free enterprise system so they have the opportunity to take care of their families and thrive.
Happy Veterans Day and thank you to all those who have served.