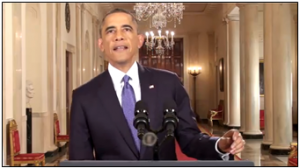 By Robert Romano
With all of the focus on Obama's executive amnesty of 4.5 million illegal immigrants with U.S.-born children, and House Republicans' decision to separate funding for agencies that spend money implementing the executive action into a shorter-term continuing resolution — very few are focused on the remainder of the budget.
Which may be good news for Republican leaders, as it affords a window of opportunity to deal with other things in the rest of the budget aside from the big ticket items like amnesty or Obamacare.
But will they take advantage of it?
Consider, the House is putting together an omnibus spending bill for the budget — as opposed to a continuing resolution. And it will be anything but clean. It is going to include a whole bunch of riders, new spending items, spending cuts elsewhere, defunds, rescissions, you name it.
So, the question is will Republicans put some things on there that actually favor their side of policy arguments? Or appeal to conservatives?
The risk is any such measure gets blocked in the Senate, or even draws a presidential veto if the legislation includes defunding of the amnesty or Obamacare were included.
But what about, say, the Internal Revenue Service (IRS) assault on political speech, the Internet giveaway, or the Department of Housing and Urban Development (HUD) takeover of neighborhood zoning?
These three Obama executive actions have time implications making them important, yet are not things guaranteed to upset the apple cart in terms of becoming law, making their inclusion well worth whatever outside risk exists.
For the non-initiated, not content with its ad hoc targeting of the tea party, last November, the IRS issued a new regulation severely restricting political activity of 501(c)4 non-profit issues advocacy organizations.
Limitations would be imposed not simply on advocacy for or against a candidate for public office, as has been the case for over 50 years, but on any communication that even mentions a public official who happens to be a candidate. Under existing rules, an organization may carry on electioneering activities so long as it does not constitute a majority of its activities.
Specifically, the regulations would have defined "certain communications that are close in time to an election and that refer to a clearly identified candidate as electioneering communications." It would have applied blackout periods 60 days prior to the general election and 30 days prior to primary elections at the federal, state, and local level.
After more than 150,000 comments from organizations on the right and left, mostly negative, the IRS rulemaking on 501(c)(4)s has merely been delayed by the agency. But since nobody like it begin with, who would shut down the government to save it?
Separately, HUD's rule, "Affirmatively Furthering Fair Housing" would attempt to redraw neighborhood zoning along racial and income boundaries in any community that accepts any portion of community development block grants. In 2012, HUD dispersed about $3.8 billion of these grants to almost 1,200 municipalities.
Faceless bureaucrats in D.C. will decide factors that "contribut[e] to segregated housing patterns" including "Land use and zoning laws, such as minimum lot sizes, limits on multi-unit properties, height limits, or bedroom-number limits as well as requirements for special use permits; Occupancy restrictions; Residential real estate steering; Patterns of community opposition; Economic pressures, such as increased rents or land and development costs; Major private investments; Municipal or State services and amenities; and Foreclosure patterns."
The HUD regulation is now set to go into effect this month. On June 10, the House of Representatives passed an amendment to the Transportation and HUD appropriations bill by Rep. Paul Gosar (R-Ariz.) in a 219 to 207 vote that would have defunded implementation of the regulation.
But unless you live in Westchester County, N.Y. — where HUD has been implementing a trial run of the rule — most Americans probably have not even heard of the rule. Are Democrats really going to shut down the government over a rule nobody's even heard of?
Elsewhere, transferring control over the Internet's domain name system and assigned numbers functions from the Commerce Department will be done by September 30, 2015 when the current contract with the Internet Corporation of Assigned Names and Numbers (ICANN) expires.
Meaning, if the House offers funding for Commerce through the remainder of the fiscal year, which ends the same day the contract expires, it might be too late to take any action next year. With that in mind, on May 30 the House voted by a 229 to 178 margin denying funding to the Obama administration to perform the transition in an amendment offered by Rep. Sean Duffy (R-Wis.) to the Department of Commerce appropriations bill.
If the House was to do that again, or if Commerce were simply directed in the omnibus bill to renew its contract with ICANN for another term, would Democrats really shut down the government over it?
Maybe they would, but they would have a harder time explaining their objections to a public expecting a "shutdown the government" funding measure to do with Obamacare or executive amnesty. It is that disconnect that creates the opportunity.
The question is if Republicans will take any advantage of it.
Robert Romano is the senior editor of Americans for Limited Government.