By Don Todd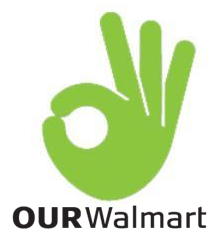 Walmart is the nation's largest private employer.  It is a non-union business.  It may surprise many than the United Food and Commercial Workers (UFCW) union has no interest in organizing Walmart employees.
Who says so?  They do.
This, despite the fact that UFCW has a subsidiary organization named "OUR Walmart" that is housed in their headquarters on Washington, D.C.'s K Street.
The UFCW website posts the following statement, "UFCW and OUR Walmart have no intent to have Walmart recognize or bargain with UFCW or OUR Walmart as the representative of Walmart employees."
The question is why is UFCW together with its wholly owned subsidiary, OUR Walmart, using union dues to pay people to harass Walmart employees and customers?  Even if you believe that is a good thing to do, how does it benefit UFCW members?  Unions are not charitable organizations.  It is not their purpose to do good deeds.
Their legal mission is to represent their members and negotiate on their behalf with employers regarding the terms and conditions of employment.  Unions are bound by the requirements of the Labor-Management Reporting and Disclosure Act (LMRDA.) Section 501(a) of the LMRDA states, "It is, therefore, the duty of each such person, [union officers and employees] taking into account the special problems and functions of a labor organization, to hold its money and property solely for the benefit of the organization and its members…" (Emphasis added.) This is the law.
When a union official fails to perform their fiduciary duties by spending money on things that are not, "solely for the benefit of the organization and its members," they can be sued and forced to repay the money so spent. Section 501 (b) of the LMRDA states, "When any officer, agent, shop steward, or representative of any labor organization is alleged to have violated the duties declared in subsection (a) and the labor organization or its governing board or officers refuse or fail to sue or recover damages or secure an accounting or other appropriate relief within a reasonable time after being requested to do so by any member of the labor organization, such member may sue such officer, agent, shop steward, or representative in any district court of the United States or in any State court of competent jurisdiction to recover damages or secure an accounting or other appropriate relief for the benefit of the labor organization. No such proceeding shall be brought except upon leave of the court obtained upon verified application and for good cause shown which application may be made ex parte. The trial judge may allot a reasonable part of the recovery in any action under this subsection to pay the fees of counsel prosecuting the suit at the instance of the member of the labor organization and to compensate such member for any expenses necessarily paid or incurred by him in connection with the litigation."
This is obviously not an easy process, but it can be done.
In litigation under these sections, courts have looked hard at whether there is a legitimate "union purpose" for the expenditures even in those situations where the expenditures at issue were ostensibly authorized. In this specific context, what is the benefit to the UFCW members or a proper "union purpose" for the UFCW's expenditure of money on its Our Walmart campaign?
Since no UFCW members are being benefited, it is hard to see any justification for these expenditures.
As such, it would appear that the officers and employees of the UFCW are violating their fiduciary responsibilities by spending members' dues money on campaigns that have nothing to do with the legal activities of a union.  Perhaps some brave members of the union will step up to sue them for redress.
An interim step would be for members to exercise their rights under LMRDA Section 201(c) to, "to examine any books, records, and accounts" that contain the information used by the UFCW to prepare the financial reports which are filed with the U.S. Department of Labor. These reports, while providing a good level of information, do not contain all the union's financial information. As such, the law provides that members can see the background information (e.g., receipts) that is required to be maintained by the union.
Members have a right to know how the union is spending their money, and right now it is impossible to tell how much is going to the OUR Walmart campaign. Perhaps inquiring UFCW members will ask how much money is going there.
Don Todd served for 8 years under Labor Secretary Elaine L. Chao as the Deputy Assistant Secretary for Labor-Management Programs at the Office of Labor Management Standards and currently is the Research Director at Americans for Limited Government.