By Rick Manning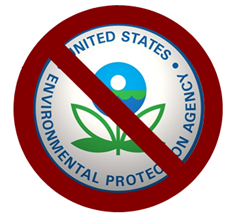 Senator Lisa Murkowski (R-Alaska) just made the strongest case for House Republicans to pass an EPA funding bill that rips the regulatory heart out of the rogue Agency.
Alaska's Murkowski who has just seen the Obama Administration unilaterally attack her state's economic viability through his ban on energy production for an immense 12,000 acre tract of land surrounding the Arctic National Wildlife Refuge came out swinging when discussing the EPA's budget saying, "We are going to be working aggressively every step of the way to put together a bill that is responsive and is something that we can gain support for passage — not a messaging bill, but support for passage."
What?  Huh? This means Murkowski plans to leave the final decision on what can be passed to the six Democrats it takes to get to 60, assuming she has all 54 Republicans with her.
Murkowski, who ran as a write-in independent after losing in the Republican primary in 2010, has either adopted Neville Chamberlain as her personal role model, or is taking negotiating lessons from Secretary of State John Kerry.  After four years of being promised that things would change in D.C. if the people entrusted the Senate to Republicans, Murkowski's white flag to the eco-regulators who are threatening our nation's economic vitality through an onslaught of regulations is particularly galling.
Rather than being a Senator who will use her clout to force the rogue Agency to its knees, Murkowski worries about the public being upset if, due to a funding dispute, the EPA is shuttered for a few days?
Much of America would cheer if the EPA's capacity to carry out President Obama's fundamental transformation of America were neutered.  Yet, Murkowski opens up the funding process under the premise that her sole objective is to get a bill completed that Democrats can support.
Fortunately, Senate Majority Leader Mitch McConnell has placed himself on the funding panel with a different vision.  McConnell from Kentucky has made it clear that he intends to use the power of the purse to stop Obama's war on coal that is devastating workers in his state.
With the EPA in the midst of an end of Administration regulatory explosion with a focus on declaring every puddle a wetland, methane gas from cows an ozone threat and the continued implementation of rules that make burning coal to generate electricity economically unattractive, America better hope that McConnell asserts his authority and overrides Murkowski.
It is time the Democrats are forced to explain to American households why their regulatory policies have driven electricity prices up 17 percent with future increases to come in spite of an abundance of domestic energy.
And with the Senate Majority Leader determined to hold their feet to the fire, Senator Murkowski's fiddling while Rome burns vision may be as lasting as last week's newspaper in a home with a bird cage.
The author is President of Americans for Limited Government.