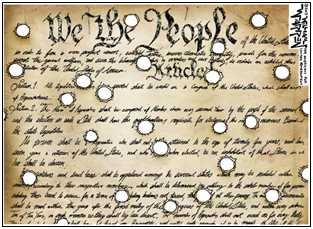 The news broke on Friday that the controversial head of the Bureau of Alcohol, Tobacco and Firearms resigned in the wake of his causing the Administration headaches they don't need by issuing a regulation that eliminated an almost thirty-year exemption for a type of ammunition used in competitive shooting.
The Director, B. Todd Jones, took charge of ATF after a lengthy confirmation process that included extensive debate surrounding the Operation Fast and Furious scandal that engulfed it during Obama's first term.
Jones' pathway to confirmation was marred by complaints over his management style and was opposed by the National Rifle Association due to his animus toward gun rights. Yet, after heated debate, he was confirmed by a party line 53-42 vote after Alaska Senator Lisa Murkowski gave him the cloture-invoking sixtieth vote to ensure Senate consent to his nomination.
Now after 21 months in office, he is out the door. The victim of his own hubris as ATF botched the so-called "green tip" bullet ban by publishing their once-a-decade 2014 Regulation Guide without an exemption for the common shooting sports ammunition that had existed for almost thirty years. His ham-handed attempt to force through a regulatory change with only 30 days for comments fell flat as the Administration and ATF came under intense scrutiny from Congress as a result.
Now Jones is gone, and ATF is in full apology mode as witnessed by a news release that accompanied notice that the regulation banning the ammunition was being pulled that ends,
"The 2014 Regulation Guide will be corrected in PDF format to include the listing of armor piercing ammunition exemptions and posted shortly. The e-book/iBook version of the Regulation Guide will be corrected in the near future. ATF apologizes for any confusion caused by this publishing error."
That's right, it was a "publishing error" coupled with a rushed regulation that, apparently, the former Minneapolis U.S. Attorney mistakenly had drafted and pushed through the regulatory review process at the White House's Office of Management and Budget.
Those darn publishers, always going rogue and deleting text from the middle of a document without permission.
With this kind of "the dog ate my homework" excuse, it is clear that Jones was unfit for the Obama Administration which prides itself on using the "I learned it from the news media" as its go-to excuse when things go haywire.
Robert Romano is the senior editor of Americans for Limited Government.