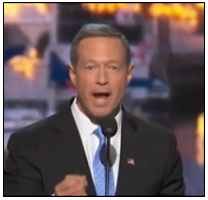 By Rick Manning
The Republican Party has an impressive group of presidential aspirants to choose from in 2016 ranging from Wisconsin's accomplished Governor Scott Walker and Louisiana's one man think tank Governor Bobby Jindal to freedom fighter Senator Ted Cruz, Senator Marco Rubio, and even former Governors Jeb Bush, Sarah Palin, Mike Huckabee and potentially Maryland's Robert Ehrlich.
With as many as fifteen qualified, energetic candidates to choose from, Republican voters will have a range of ideas, visions, and solutions to consider as our nation faces a decision of what to do about the regulatory state, mandatory spending explosion, and repairing a foreign policy that has gone flaccid under the current Administration.
The Democrats on the other hand have past retirement age alternatives Hillary Clinton, Elizabeth Warren and Vice President Joe Biden as their leading contenders. While Hillary and Warren were flower children of the 1960s, Biden was in his twenties when the Beatles invaded our shores changing music forever.
Once the province of youthful leadership, suddenly the Democratic Party looks like a Grey Panther convention with entertainment by Judy Collins, Grace Slick and Keith Richards.
In lieu of this support hose wearing Washington, D.C. sewing circle, Democrats are beginning to search for a fresh face to revive their cool with the hipster Millennials upon whom they rely for unthinking allegiance.
Their weak bench of second-tier contenders exposed, former Maryland Governor Martin O'Malley is beginning to receive ovations on the campaign trail as he explores a run.
To those unfamiliar with O'Malley's tenure running the bluest of blue states, his swagger gained as a vocalist, guitarist and songwriter for his Celtic rock band "O'Malley's March" has set some hearts aflutter with thoughts of Bill Clinton playing saxophone on the Arsenio Hall show running amok in their minds.
However, the dirty little secret of the bicep flexing wannabe is that his policies were soundly rejected by the Maryland voters who he governed for eight years in 2014, as Republican Larry Hogan was elected to replace him and clean up his mess.
Among the first items on the agenda has been Hogan's determination to eliminate O'Malley's rain tax, which caused the "free state" to be heaped with nationwide scorn. For the uninitiated, you read it correctly, Martin O'Malley along with his overwhelming Democrat legislative majorities in the statehouse, taxed rainfall in the state under the guise of run-off's environmental impact.
But O'Malley didn't just tax the rainfall, no, he raised the income tax, sales tax, gas tax and virtually anything and everything that moved in his never sated desire for more money to spend. O'Malley invoked a millionaires tax that led to the ever mobile wealthy to move their residences across the Potomac River to the much more friendly Commonwealth of Virginia, and actually resulted in reduced revenues for the state from upper earners.
Unlike the smooth Bill Clinton who learned how to couch his liberalism in the conservative language of the South, or the blank slate Barack Obama who America imprinted their own hopes onto in spite of his words, O'Malley has a real record. It is an extremist record unchecked in a virtual one-party state that he will be forced to defend. A record that his own state chose to reject in favor of the affably, simple message that his tax policies were destroying the economy of Maryland.
As the Democrats cast about for alternatives to their geriatric front runners, Republicans can only hope that they turn to the comparatively youthful leftist from Maryland, Martin O'Malley. A man who views the hard earned money of those fortunate enough to have a job, and the government as the solution to every problem – hardly themes that have been embraced in recent years in the electoral college vote rich Great Lakes region of the country.
Geriatrics or the tax man, the donkey party has quite the chose in 2016.
The author is the president of Americans for Limited Government and a resident of the state of Maryland.