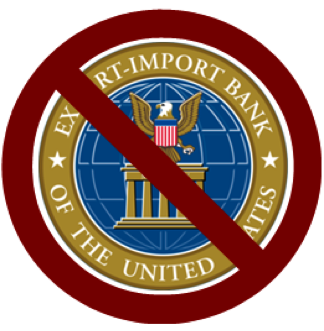 Why do we even need an Export-Import Bank?
In 2014, the U.S. economy exported $2.344 trillion of goods and services, a 2.8 percent increase over 2013.
In 2013, the U.S. economy exported $2.271 trillion of goods and services, a $60.8 billion or 2.7 percent increase over 2012.
In 2012, exports totaled $2.21 trillion, a $97.76 billion or 4.6 percent increase over 2011.
Yet, almost none of the increases were because of Ex-Im Bank loans, which only grew $3.1 billion in 2012 and actually decreased by $8.5 billion in 2013 to $27.3 billion. In 2014, they grew by just $200 million to $27.5 billion.
Even when the loans decrease, U.S. exports increase. In other words, they have almost no impact whatsoever on the growth of exports.
According to the bank's charter, the Export-Import Bank of the United States is supposed to "facilitate exports of goods and services." But its loans account for just 1.17 percent of the nation's total exports. What a joke.
All of which makes the bank's consistent reauthorization by the U.S. Congress since its 1934 inception inexplicable.
All this for slightly lower interest rates for companies that likely could lock up financing in the private sector anyway?
In a recent House floor speech, Rep. Dave Brat (R-Va.) blasted the program, "Whenever you hear someone say, Hey, I am getting low interest rates — what a great deal. The low interest rates are being paid for by you; and the risk, which is just as important and is easy to hide, is also being borne by you, the taxpayer."
Presidential hopeful Sen. Marco Rubio (R-Fla.), too, recently joined the fray. "I have long supported ending funding for Ex-Im," Rubio told reporters. "I don't believe taxpayer money should be used as corporate welfare."
Fortunately, the unnecessary, unsinkable bank's reauthorization comes up again this June. Congress need only do nothing, and a wasteful government program can be eliminated. Easy-peasy, right?
On June 22, Fox News Sunday's Chris Wallace asked then-newly minted House Majority Leader Kevin McCarthy (R-Calif.) if he "would allow the Ex-Im Bank to expire in September?"
"Yes, because it's something the private sector can be able to do," McCarthy said at the time.
Ahead of the June 18 House leadership elections necessitated by the defeat of former Majority Leader Eric Cantor (R-Va.) by Dave Brat in the Republican primary, McCarthy even promised members not to move the Export-Import Bank's reauthorization.
But not so fast. When push finally came to shove, rather than let it lapse, in September 2014 Congress added it to the continuing resolution. Will they let it lapse this time?
We'll find out soon. Last year, the reason it ultimately was included in the continuing resolution was because if the bank were not included, it was thought that Harry Reid would have passed a full 5-year reauthorization in his version of the continuing resolution, and then that would have passed the House — because it would have been unwilling to shut down the government over the issue — and the bank would live on.
So, supposedly, waiting until June 30 was the only way to get rid of the bank.
Republican leaders promised to do away with it. Now it's time to follow Brat and Rubio's lead and take out the unnecessary bank once and for all.
Robert Romano is the senior editor of Americans for Limited Government.