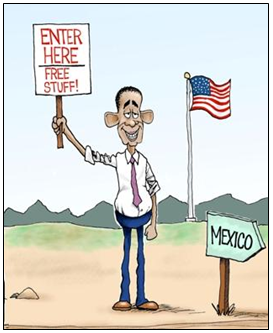 "[T]his is going to be a living document, so the treaty signatories are able to change it any time if we authorize it to go forward."
That was Sen. Jeff Sessions (R-Ala.), speaking with John Fredericks  on WHKT out of Portsmouth, Va., describing the pending Trans-Pacific Partnership commercial treaty now under consideration by Congress.
The provision for a "living agreement" means, according to the Congressional Research Service, "one that is both open to new members willing to sign up to its commitments and open to addressing new issues as they evolve."
As a result, Sessions is concerned the treaty will come to include immigration, saying, "It does appear the president can negotiate immigration rules contrary to law of the U.S. if we pass this legislation. And we know he'll push it as far as he can," Sessions told Fredericks.
According to the U.S. Trade Representative, immigration visas are under discussion in the treaty: "Transparency and efficiency in the processing of applications for temporary entry, and ongoing technical cooperation between TPP authorities. Specific obligations related to individual categories of business person are under discussion."
Now, Sessions tells Politico in an exclusive interview, "I'm not going to going to support it if I'm not confident about it."
But immigration may not be the only shoe waiting to drop.
Right now, the treaty includes the U.S., Australia, Brunei Darussalam, Canada, Chile, Japan, Malaysia, Mexico, New Zealand, Peru, Singapore, and Vietnam. But its open nature means that other nations may wind up joining it after Congress has already proceeded to expedite the treaty's passage with simple majority votes in both houses.
Like China.
That would be particularly concerning since it is now known that the agreement will not be addressing currency at all — Japan would bolt if it did. This leaves open the possibility that if China were to enter the agreement, it would be without addressing monetary policy, a key point of disagreement between the nations.
The Senate Finance Committee could have put this fear to rest at a recent hearing when it considered an amendment to ensure Congressional oversight if China were to dock into the agreement.
This would have been an opportunity to at least require formal congressional approval for any entrance by China into the agreement, and yet it was defeated by a roll call vote, 11 ayes, 15 nays.
In favor were Senators Chuck Grassley (R-Iowa), Rob Portman (R-Ohio), Chuck Schumer (D-N.Y.), Debbie Stabenow (D-Mich.), Maria Cantwell (D-Wash.), Bill Nelson (D-Fla.), Bob Menendez (D-N.J.), Ben Cardin (D-Md.), Sherrod Brown (D-Ohio), Michael Bennet (D-Colo.), and Bob Casey (D-Pa.).
Opposed to overtly blocking China from the trade deal were Orrin Hatch (R-Utah), Mike Crapo (R-Idaho), Pat Roberts (R-Kans.), Mike Enzi (R-Wyo.), John Cornyn (R-Texas), John Thune (R-S.D.), Richard Burr (R-N.C.), Johnny Isakson (R-Ga.), Pat Toomey (R-Pa.), Dan Coats (R-Ind.), Dean Heller (R-Nev.), Tim Scott (R-S.C.), Ron Wyden (D-Ore.),  Tom Carper (D-Del.), and Mark Warner (D-Va.).
Potential China entry into the Trans-Pacific Partnership and currency are key sticking points for opponents of the Pacific trade deal. If the deal is not supposed to include China in the first place, then why do supporters have such a hard time explicitly excluding that nation? In the least, it might help garner more support from skeptics.
Making matters worse, if Congress grants Obama trade promotion authority, the treaty, when it's finally presented, will pass by a simple majority of both houses of Congress, instead of by the constitutionally-required two-thirds of the Senate.
This is a dangerous grant of power.
And as Sessions warned, "We know [Obama] will push it as far as he can." Best not to take that chance.
Robert Romano is the senior editor of Americans for Limited Government.