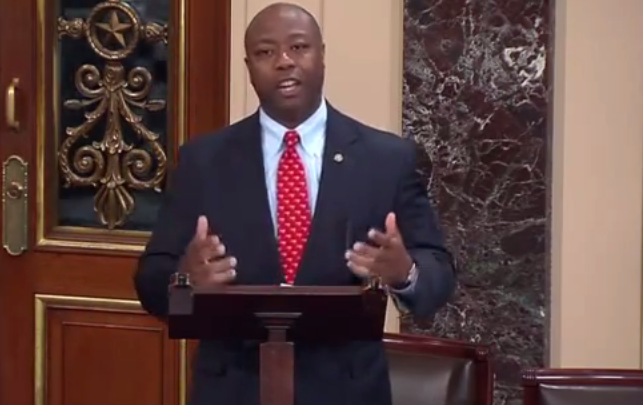 Last week, Sen. Ted Cruz (R-Texas) joined Sen. Marco Rubio (R-Fla.) in co-sponsoring legislation by Sen. Mike Lee (R-Utah) that would prohibit the use of federal funds by the Department of Housing and Urban Development (HUD) to implement the regulation known as "Affirmatively Furthering Fair Housing" (AFFH).
The rule conditions eligibility for community development block grants upon redrawing zoning maps to achieve racial and income integration. All that is required is a mere accusation by HUD of not being in compliance. In 2014, HUD dispersed about $3.4 billion of these grants to about 1,200 counties and cities, putting every one of them into the Obama administration's crosshairs.
Cruz and Rubio are among the leading contenders for the Republican presidential nomination, so their dual support is noteworthy enough. And with the race turning south and all eyes on South Carolina, presidential politics aside, a natural question to ask might be where Sen. Tim Scott is on this issue.
After all, Scott chairs the Senate Banking Subcommittee Chairman on Housing, Transportation, and Community Development and as such should be able to outline exactly just how screwed up President Barack Obama's vast overreach in this area has been.
According to Fits News based in South Carolina, Scott has promised to hold a hearing on the issue: "Last year Scott's office indicated it was investigating the 'neighborhood engineering' rule — promulgated by Obama's Department of Housing and Urban Development (HUD). Hearings were likely, we were told."
But so far, no hearings have been scheduled, according to the Banking Committee's website. What gives?
That the regulation affects zoning issues is without question — HUD Secretary Julian Castro's statements to the contrary notwithstanding — namely because the rule says it takes zoning into account. It directs block grant recipients "to examine relevant factors, such as zoning and other land-use practices that are likely contributors to fair housing concerns, and take appropriate actions in response."
HUD has also proposed the "Affirmatively Furthering Fair Housing Assessment Tool" "for use by each program participant to evaluate fair housing choice in its jurisdiction, to identify barriers to fair housing choice at the local and regional levels, and to set and prioritize fair housing goals to overcome such barriers and advance fair housing choice."
In preparation for implementing the regulation, HUD has released template racial rezoning maps and data tables to be used in each community development block grant recipient area.
The tool's worksheet orders the assessing bureaucrat using the maps and data to "identify neighborhoods or areas in the jurisdiction and region where racial/ethnic groups are segregated and indicate the predominant groups for each."
Additionally, the bureaucrat must identify the extent the following factors "contribut[e] to segregated housing patterns" including "Land use and zoning laws, such as minimum lot sizes, limits on multi-unit properties, height limits, or bedroom-number limits as well as requirements for special use permits; Occupancy restrictions; Residential real estate steering; Patterns of community opposition; Economic pressures, such as increased rents or land and development costs; Major private investments; Municipal or State services and amenities; and Foreclosure patterns."
This is vast overreach.
In the least, defunding "Affirmatively Furthering Fair Housing" should be a no-brainer for the House and Senate, particularly given the Department's attempts to mislead Congress about what the regulation does.
But, a hearing? Those should be easy. So, how about it, Sen. Scott? Throw in co-sponsoring the Lee bill while you're at it. Heck, there could even be a two-fer: Do a hearing on the bill. All eyes are on South Carolina, in more ways than one.
Robert Romano is the senior editor of Americans for Limited Government.