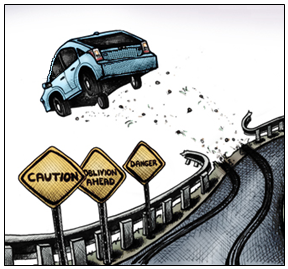 By Rick Manning
The national push is on for the legalization of self-driving cars under the guise of safety and convenience.  Apparently, these so-called google cars have a better mapping system than I'm provided through my Android hand held device. Otherwise, no one would be dumb enough to propose a hands free vehicle.
Just today, I hit slightly worse than normal traffic and Google Maps assured me that it had a faster way into D.C., and foolishly I believed it.  The program attempted to send me the wrong way down not one, not two, but three streets that the District had deemed to be one way.
Fortunately, with hands on the wheel and full attention being paid to operate my own vehicle, I avoided these potentially disastrous choices and found my way to the proper route.  Disaster averted.
However, the appeal of driverless cars is that the occupants can pay attention to other things ranging from entertainment, talking on the phone, or even taking a nap.
Even if the mapping was 100 percent accurate with the latest road conditions for every roadway and back-road in America, anyone who has ever lost an Internet connection knows the danger.  Once again, on my commute to work I have two dead areas where phone service ceases to exist, disconnecting me from the precious satellite network that would be telling a driverless vehicle where to go is an adventure I could do without.
And this isn't even mentioning either the privacy implications of the whole project in this age of OnStar being able to open or lock your car remotely, and even shut down the engine if directed to do so, or the liability issues when a car runs amok into a building because of a map glitch.
Rick Manning is the president of Americans for Limited Government.