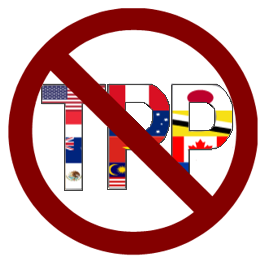 By Robert Romano
Article 27 of the 12-nation Trans-Pacific Partnership (TPP) trade pact could be the beginnings of a Pacific Union — a governing body for implementing the trade agreement styled after the European Commission.
Entitled, "Administrative and Institutional Provisions," it establishes the Trans-Pacific Partnership Commission that will have the power to promulgate rules pursuant to the agreement, implement those rules, and interpret those rules.
That is, legislative, executive, and judicial powers all wrapped into one unaccountable, multinational commission — with no separation of powers whatsoever.
Think that's insane?
The commission will be implementing the largest trade agreement in world history regulating about 40 percent of the global economy.
When it comes to amending the agreement or allowing other countries such as China to opt into the agreement, it is not very clear whether that will require votes of Congress.
As noted by Americans for Limited Government President Rick Manning in a statement last November, "While the U.S. Trade Representative provided a chapter summary on its final provisions that it would take votes of Congress to amend the agreement and to allow other countries to dock into the agreement, the text of the agreement is not nearly so explicit, leaving significant concerns about how the trade agreement will function and whether U.S. representative democracy will be meaningful in its wake."
Manning added, "A chapter summary is not the agreement itself. The danger of a runaway commission is too great for this to be ignored."
President Barack Obama has not yet signed the TPP, even though Congress approved consideration of it under Trade Act of 2015. The law requires that Obama notify Congress at least 90 days prior to signing it, which he has indicated he will.
Meaning, Obama could be signing the agreement any day now.
After Obama signs the agreement, then he has 60 days to provide Congress with a list of required changes to U.S. law to implement the agreement. And, then Congress must consider the agreement on and up or down basis.
But the fact that it has not been signed yet, this late into Obama's last year of office, could mean that Obama does not want the 60-day window to begin until we're well into September — meaning Congress would not get to vote on the trade agreement until after the election.
The largest trade deal in world history may end up being approved by a lame duck Congress, composed of defeated and retiring members who are no longer accountable to voters.
In the meantime, both presumptive nominees of the major political parties, Donald Trump and Hillary Clinton, say they're against TPP. Opposition to big trade deals that outsource Americans jobs and fail to address currency manipulation overseas has been a major theme in this election campaign.
A poll by Pat Caddell commissioned by Americans for Limited Government found that after being told what was in the agreement, Republicans opposed it 66 percent to 15 percent, Democrats oppose it 44 percent to 30 percent and Independents oppose it 52 percent to 19 percent.
In a cynical sense, then, it makes sense that Obama would seek to insulate members of Congress from the political fallout of an unpopular trade deal by scheduling the vote after the election.
But Obama also must consider the political consequences of signing the TPP on the eve of the election. If both candidates remain opposed, what is the political basis for proceeding? Especially a trade agreement that will create an unelected, transnational commission regulating the world economy without any votes in Congress.
Democrats including Clinton might pay a heavy price in November if Obama tries to sneak TPP across the finish line in a lame duck session of Congress — all to the benefit of Trump. Something to consider as we inch closer to the election.
Robert Romano is the senior editor of Americans for Limited Government.