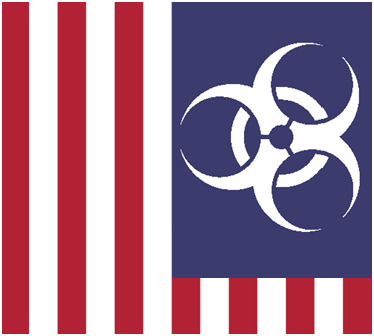 By Natalia Castro
The Zika virus is not a foreign problem anymore. U.S. territories are being exposed, U.S. citizens are being exposed and people around the world are traveling with the disease.
Currently, Congress is contemplating certain actions being taken, but new research and development is not needed because the answer has been around since the 1950s, but environmentalists don't want to admit it. It is dichlorodiphenyltrichlororethane, or DDT.
As of May 2016 only 4 states do not have reported cases of the Zika virus, a virus which the Center for Disease Control and Prevention (CDC) claims is spread by infected mosquitoes and causes a serious birth defect called microcephaly, as well as severe fetal brain defects. The center notes that that "on February 1, 2016, the World Health Organization (WHO) declared Zika virus a Public Health Emergency of International Concern. Local transmission has been reported in many other countries and territories. Zika virus will likely continue to spread to new areas."
We could be on the verge of an epidemic or worse which has already infected nearly 600 mainland Americans and over 900 Americans on US territories, but the most efficient way to stop the spread, DDT, has already been banned.
In 1972, Congress enacted the Federal Environmental Pesticide Control Act, a far-reaching amendment that gave the Environmental Protection Agency (EPA) vast discretion to ban certain pesticides. The executive ban by the EPA on DDT from use completely was instituted that very year because the gas, primarily sprayed over livestock as a pesticide, was found to cause defects in the developments of animals exposed to the spray.
However, today DDT could be used differently in order to stop the spread of this deadly disease, if the EPA was only willingly to prioritize human life.
In a Jan 2016 National Review article aptly titled "Will the EPA Cause a Zika Pandemic?" author Robert Zubrin explains "a cure for Zika is not known, and it could take decades to find one. Zika is spread by mosquitoes, which can be exterminated by pesticides. The most effective pesticide is DDT."
The science backs up this method as well, while DDT spread over our food supply risked harmful effects, evidence suggests using it in small quantities in homes and mosquito prone areas can both discontinue the spread of the disease while mitigating environmental damage.
The New York Times of Jan 2016 cites Dr. Lyle R. Petersen, director of the division of vector-borne diseases at the CDC, who explains "the concern about DDT gas [has] to be reconsidered in the public health context. The damage to fish and wildlife stemmed from the widespread outdoor use of DDT in agriculture, not the use of small amounts on walls inside homes to kill mosquitoes."
By enforcing an absolute ban, the EPA prioritized the protection of few animals rather than hundreds of thousands of people. The global ban on DDT, even more so.
Researchers admit use of the pesticide can be done carefully and controlled, but environmentalists maintain that the negative effects of DDT on the environment and possible effects on humans make it an unrealistic option, and instead propose genetically modifying mosquitoes to never make it past the initial stages of birth. However, this would require both eliminating an entire species of mosquitoes, rather than just the diseased ones, and does nothing to eliminate the already infected mosquitoes.
This was true when DDT was proposed to end malaria as well, it was proved DDT worked as a repellant to over 80 percent of mosquitoes entering homes, but the EPA blocked its use then too. While the EPA plays with politics and perception, they are allowing humans to die, wasting time proposing new research ideas, while people in nearly every Latin American country are being infected at rapid rates.
In the U.S. territory Puerto Rico, the CDC predicts a quarter of the island's 3.5 million people will get Zika within a year, and eventually 80 percent or more may be infected. As a Puerto Rican American this is not just terrifying, it is heart wrenching to know that a solution exists but is neglecting to be explored because of "environmental concerns".
During a Public Health Emergency of International Concern is not the time to be focusing on birds. Malaria as a plague still infects and kills hundreds of thousands of people every year, according to the World Health Organization. Why don't we just kill the mosquitoes?
It is convenient for faceless bureaucrats to prioritize the environment when the issue is in a foreign country, effecting a foreign population. But members of Congress must realize the Zika virus is here and affecting us now — and the solution is to overturn the EPA's executive ban on DDT. The message is simple, DDT is a solution to save millions of lives, and ignoring it, ignores human life.
Natalia Castro is a contributing editor at Americans for Limited Government.