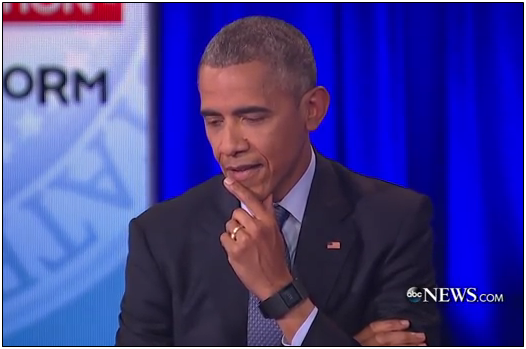 By Natalia Castro
In the ABC town hall meeting with President Obama on July 14, Obama called himself "Mr. Hope" and decided he would bring together local communities to solve the issues of crime and danger plaguing the nation. But as Texas Lieutenant Governor Dan Patrick stood before Obama to tell him that the officers no longer trust his word, it became clear the American people can also see through this façade.
Patrick called into question whether police officers even believe Obama supports them anymore saying, "[D]o they know in their hearts you're doing everything to protect their lives? Yesterday you had meetings at the White House and afterwards you said the tensions between the police and black America is only going to get worse. Your words matter, and I'd ask you to consider being careful, rather than being quick to condemn the police."
President Obama responded claiming "I have been unequivocal in condemning any rhetoric directed at police officers, so you would have to find any message that did not include a very strong support for law enforcement."
Unfortunately, Obama's anti-police words are not hard to find at all. During one of the first major incidences of police scrutiny by the black community in the arrest of prominent black scholar Henry Louis Gates Jr., Obama admitted he did not have all the facts of the case, yet still criticized local police.
Obama remarked at the July 22, 2009 press conference, "I do not know what role race played, but I think it's fair to say, number one any of us would be pretty angry and number two, the Cambridge police acted stupidly."
In this same press conference Obama joked that if it had been him at the White House he would have been shot by the police — "here, here I'd get shot," he said, sparking the room with laughter while making a joke about police use of force.
President Obama has since used national incidences involving race to perpetuate his anti-police agenda. After an accusation of racial profiling leading to the death of Michael Brown in Ferguson, Missouri; the officer Darren Wilson was released from the possibility of indictment by a grand jury. But President Obama was not ready to let the case go.
In fact, President Obama led the Department of Justice to a full civil rights investigation to scrutinize the constitutionality of the police department. This led to a sue and settle lawsuit against the city and the police department over conduct, alleging First and Fourth Amendments constitutional violations, a case the city settled apparently without contest.
Even though the investigation did not bring up the Brown case a single time besides to say that the police weakened the community ties, and did not find any wrongdoing by Wilson.
President Obama developed the case that became the foundation for the "Ferguson Effect" which has led to higher crime and increased distaste for police.
Now President Obama speaks about the hope for connecting communities and police, but once again his action speaks volumes of his lack of support. Does anyone believe him?
Take his mass prison break proposals. It is impossible to discuss criminal justice reform within the most recent Town Hall without discussing S. 2123 The Sentencing Reform and Corrections Act of 2015. This criminal justice reform legislation represents the contradiction the president makes with his rhetoric and his policies, and average Americans are aware of it.
The Washington Post of October 2015, explains just following the acts approval that "the Sentencing Commission estimated that an additional 8,550 inmates would be eligible for release between Nov. 1, [2015] and Nov. 1, 2016. The change in sentencing guidelines eventually could result in 46,000 of the nation's approximately 100,000 drug offenders in federal prison to qualify for early release."
Obama has said he will sign the legislation, in an effort to lower prison populations, but has ignored the danger of recidivism, lack of oversight for violent offenders and the additional burden on local communities.
Yet Obama claims to be the "hope" for all communities at risk.
At the town hall event, I asked D.C. walkers about this mass prison break and responses ranged from confusion that "their" president would allow for such a thing to deep concern for their local community.
Jesse Miles, a D.C. native eager to attend the town hall in order to ask Obama about the level of safety in his own community, explained that after spending just one night in jail when he was 18 he noticed a commonality within the justice system, their environment bred violence.
Miles stated "[these prisoners] will not reintegrate well. Everyone knows about prisons and jails, they create violence. To essentially pardon someone who has been serving for years will not work, they do not know the same society anymore."
While admitting the system needs change, many agreed simple prison release is not the answer.
Jon Rice, a student living in D.C. and originally from Texas, feared that in an attempt to seem unbiased judges will lower the sentences for minorities without actually accounting for their violent histories.
Rice and I discussed the case of Wendell Callahan, a clearly violent criminal who received a reduction in his sentence under the U.S. Sentencing Commission retroactively applying the 2010 Fair Sentencing Act and upon release murdered his ex-girlfriend and her two children.
Rice explained that when the perception is that we have wronged all individuals and convicts have been negatively affected by a strict justice system, judges are placed in a position where they feel obligated to allow earlier release and shorter future sentences. Rice worries that judges will not fairly say a violent offender must stay in prison because of potential backlash.
Other interviewees discussed the lack of community support for when police officers, companies, and schools must handle these released convicts. The communities and past victims will no longer hear of violence on television but be forced to live in its surroundings even as Obama pledges change.
President Obama is not supporting local police departments, but making their jobs more dangerous and difficult each day. The Justice Departments cases against Ferguson — and other city police departments — plus the retroactive sentencing reductions of federal inmates is a testament to that. Obama is putting on a show, and continuing his war on cops and the prison break which fuels the hostility he speaks against.
Natalia Castro is a contributing editor at Americans for Limited Government.