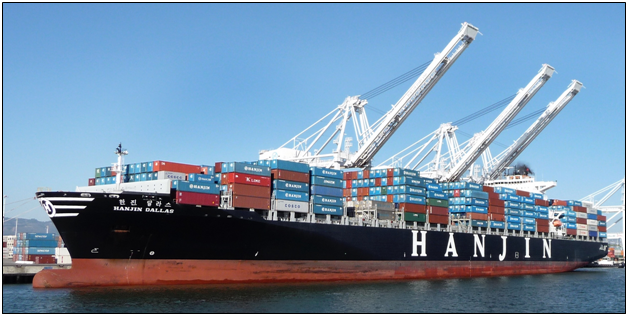 The global economy took a major hit on Aug. 31 when the seventh-largest shipping company in the world, South Korea-based Hanjin Shipping, filed for bankruptcy protection in the U.S.
Hanjin represents about 8 percent of the volume of all trans-Pacific trade, meaning its loss threatens to severely interrupt global supply chains. Billions of dollars of orders will not be delivered on time or at all, potentially leaving retailers with empty shelves when the holiday shopping season rolls around. Considering how dependent U.S. retailers are on production across the Pacific, Hanjin's demise could have an immediate impact.
It may not quite be the Lehman Brothers collapse, but taken as a broader indicator, if one of the key shippers for global trade has bitten the dust, does that mean global trade too is slowing down?
It sure looks that way, reading U.S. Census Bureau data on international trade. Imports of goods from overseas are down 5.2 percent January through July compared to this point in 2015. U.S. exports of goods — cargo container ships travel both ways — are down 6.4 percent compared to last year.
They were down in 2015 as well, with goods imports taking a 4.7 percent hit and exports down 7.5 percent.
Those are terrible numbers. So it is not surprising that a major shipper that became overextended would lose money or even go out of business in that environment. But it also raises red flags as to which other companies are exposed in the shipping industry.
And yet it's bigger than that. Forget those tempest in a teapot rate hikes by the Federal Reserve. Global trade is grinding down as the emerging markets bubble has popped. That affects every level of production, distribution and sales. You know, the real economy.
It has also hit commodities indices hard as demand has collapsed globally. For certain, West Texas intermediate oil stands near $45 a barrel now, down 57 percent from its June 2014 high of $105. Wheat is down to about $147, 59 percent off its Nov. 2012 high, and past its June 2010 low of $157. Other commodities like rice, beef, gold and silver have rallied somewhat after hitting recent lows but are still way down from previous highs.
Even economic growth has taken a big hit, slowing down to 0.9 percent annualized for 2016 so far, according to data compiled by the Bureau of Economic Analysis.
How far the correction goes remains to be seen. One hopes the worst might be over, but with Hanjin's failure, there may be a ways to go before a bottom is felt.
Robert Romano is the senior editor of Americans for Limited Government.