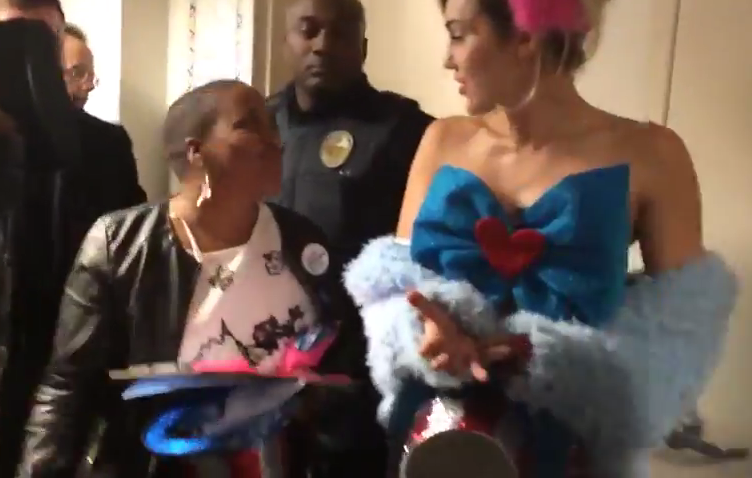 By Natalia Castro
Being a conservative on campus is hard enough, at George Mason University (GMU) they have just made it even more difficult. On Saturday Oct. 22, 2016 Mason hosted celebrity Miley Cyrus on campus to promote Hillary Clinton and knock on student's dorm doors to ensure they were voting.
While this fun, press event might have seemed harmless to some, for anyone outside of the Clinton fan base this partisan charade on campus was both distracting and disrespectful.
With suspicion regarding how this event handled university policies and campaign laws, Americans for Limited Government filed a Freedom of Information Act to obtain more knowledge. The information revealed that despite the media driven perception, Cyrus did not go door to door. Instead she knocked on the doors of pre-approved students led by a security team and had a photo opp with university President Angel Cabrera.
Mason administrators assisted in gathering the security team, selecting students to meet Cyrus, and coordinating the visit with the Clinton campaign. A clearly partisan event seemed more like a Mason sponsored event.
Upon discussion about the event with students on campus prior to Cyrus's visit, students with the universities College Republicans chapter noted that this was even permissible since Ivanka Trump was expected to have a similar visit the following week. However, Trump's visit never happened.
Cyrus gathered a crowd outside the Piedmont dorm hall to chant her songs at her as she spoke with students inside, as a Mason student myself, the charade seemed to cause a publicity nightmare certainly not exemplary of the Mason environment.
Aside from being distracting and blocking nearly all access to the Piedmont dorm, the event isolated Republican students on campus.
Harvard University's own Crimson newspaper embarrassingly had to explain in an Oct. 2015 report, "The Elephant in the Room: Conservatives at Harvard," that conservative students on campus often feel overwhelmed by the liberal presence of students and faculty. This isolation prevents students from working on political campaigns and silences students in classrooms.
When GMU courted Cyrus onto campus to promote the Clinton campaign, they sent a clear message about who they supported in the 2016 election. Despite student hopes of a balanced campus environment, our own President was pictured with Cyrus during her pro-Clinton campaign.
One Mason student writing for The Odyssey noted that while speaking to a police officer in the crowd watching Cyrus he told her that "they chose Piedmont 4th because many of the students who live there are affiliated with the GMU Democrats or were actively involved the Hillary campaign."
It is not like Cyrus spoke on campus about political issues and ideas, she went into dorms and pretended to visit random students while instead speaking with known Democrats about why Clinton was the best option.
Students refusing to support Clinton in the 2016 election did not have their voices heard on campus this October, they were subjected to a fabricated press show to boost Clinton, Cyrus, and the University in a partisan manner. Instead of pursuing an open and inclusive political environment, GMU did little besides isolate political opinion on campus.
Natalia Castro is a contributing editor at Americans for Limited Government.